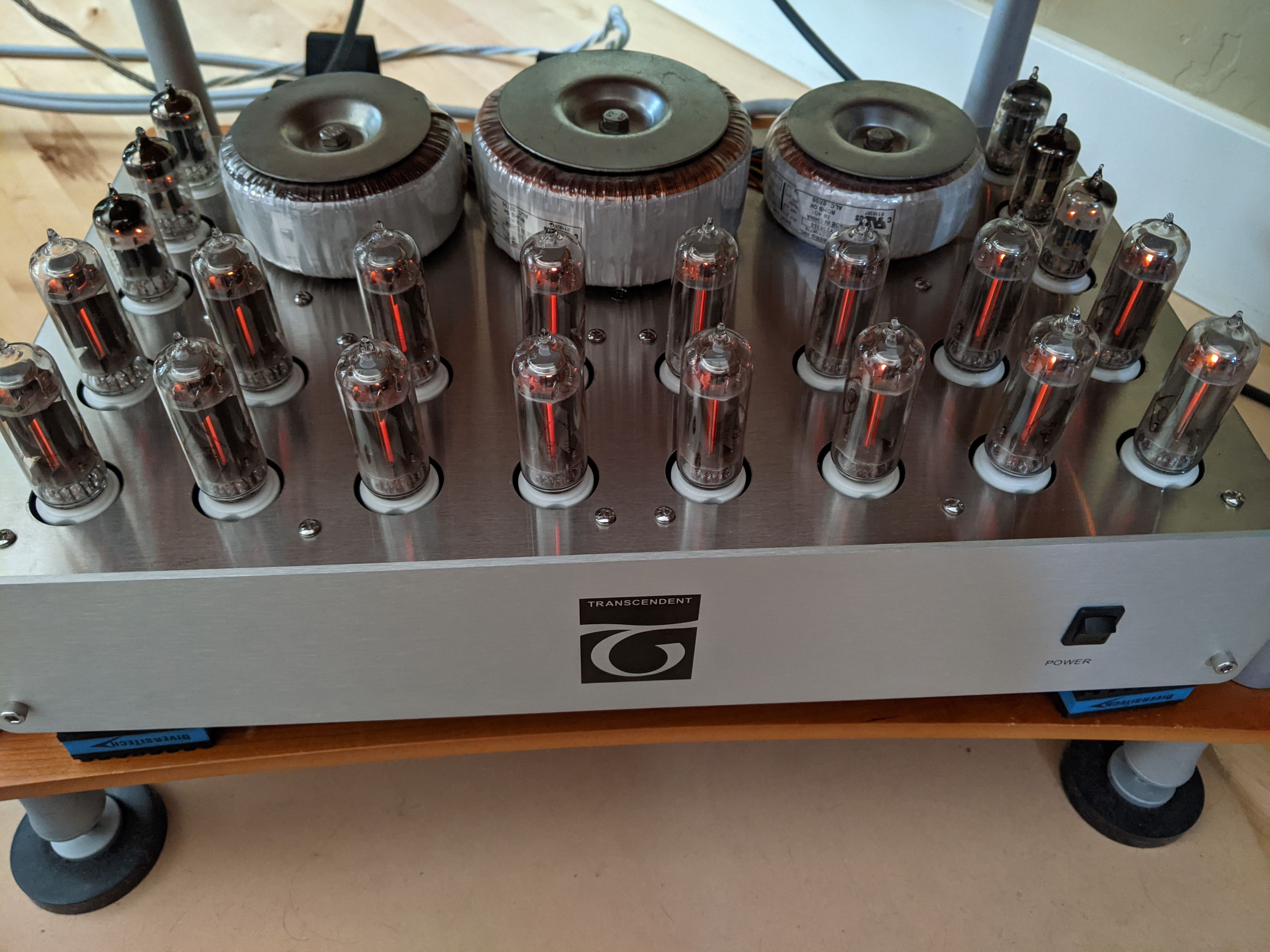 zufan
Responses from zufan
Which Tannoy?


@cantorgale - will DM you; see my system page. 

Types of speakers to create nightclub style sound?


I have a set of Zu Omen Defs that could prolly recreate a jet engine, but I rarely wind them up. Mostly jazz. However, I do now & then, on EDM / beats type stuff. They're seemingly limitless. They don't have pounding bass like a sub will but f...

Transcendent T16 OTL amp - bias question (& general tips)


Hi guys - thanks for chiming in!Yesterday I emailed Bruce and he thankfully replied back with the pdf manual in a couple hours. Checked the bias, and was spot on. Apparently the provenance on mine is that it was built by Ed at The Horn Shoppe. The...

TANNOY will stop Hi-FI ?


I bought a new set of Cheviot a few months back from Upscale. They're the bee's knee's. If the big T do go defunct, their value might increase if anything. 

Power Amp for Dynaudio Contour 30 and 25C Center


Who does Dyn show with? Octave. Killer amps. 

The Spatial Audio M Series Sapphire Loudspeakers reviews ! Best Kept Secret


An unpaid shill then, ok. Why not. I vote for Fyne for best secret, but there are no secrets in hifi, just cult brands.

Tannoy cheviot vs Arden what should I expect from each?


I bought a set of the new Cheviot a few months back from Upscale. They sound like butter. Not bass heavy unless playing something that has deep bass, then they dig deep, no hesitation.

The Spatial Audio M Series Sapphire Loudspeakers reviews ! Best Kept Secret


Getting kickbacks?

My NAD 3020 D proves your Class D tropes are wrong


Enjoying mightily my week old D 3020 V2. Sounds delish. I also own Tommy's Cherry amp. And a rebuilt Dynaco. Ergo, both ends of the amp spectrum. Anyhoots @erik_squires I'm with you 100%. To own one is to kick back & smile. 

Power Conditioner. From Richard Gray for Shunyata Hydra


Also a 400 Pro owner for 15 years. Yesterday ordered a Hydra 6 from The Music Room. I have 2 rigs though, ergo not for a replacement. @nasaman - what did you end up doing? 

New Dynaudio Evoke 20


@fredcdobbs I bought a set of Fyne 501 two weeks ago. My local buddy had them and was downsizing. He let me home demo and I was instantly gobsmacked. They are *astoundingly* good. I'll be doing a separate thread/review on them sometime soon. See p...

Single driver speakers. Are they worth considering ?


Does a trumpet have a crossover?  I own Zu, Tannoy, and Fyne. I've owned a silly number of other conventional brands also. The minimalist approach sounds best to me. Actually: sounds most like real music. Designers brag about 'how well the drivers...

Record Cleaning Fluid?


Last nite I used a mix of distilled water, a few drops tergiclean, several drops jet rinse aid. Records came out immaculate. No streaks, no scrim. Didn't even use rinse cycle. Playing them all day today. Louder & more vivid. Better than vinylc...

Replaced my Ortofon Blue stylus today via plug and play swap in seconds


Over 80% of the cart cost, but why buy another cart in general (assuming you dig it)? I wouldn't care if it was 100% the cost of another cart, I'd still get the replacement stylus assembly. To your point: the ease of swapping in seconds. One day m...

Schiit Sol turntable owners out there?


Oh that's interesting the queue is that long. Mine arrived in a few days, back in Oct or so. Selling out quick perhaps. Be great to have more users out there.Yes indeed: many variables to be user adjusted. Which prompted my OP, tips and tricks, di...