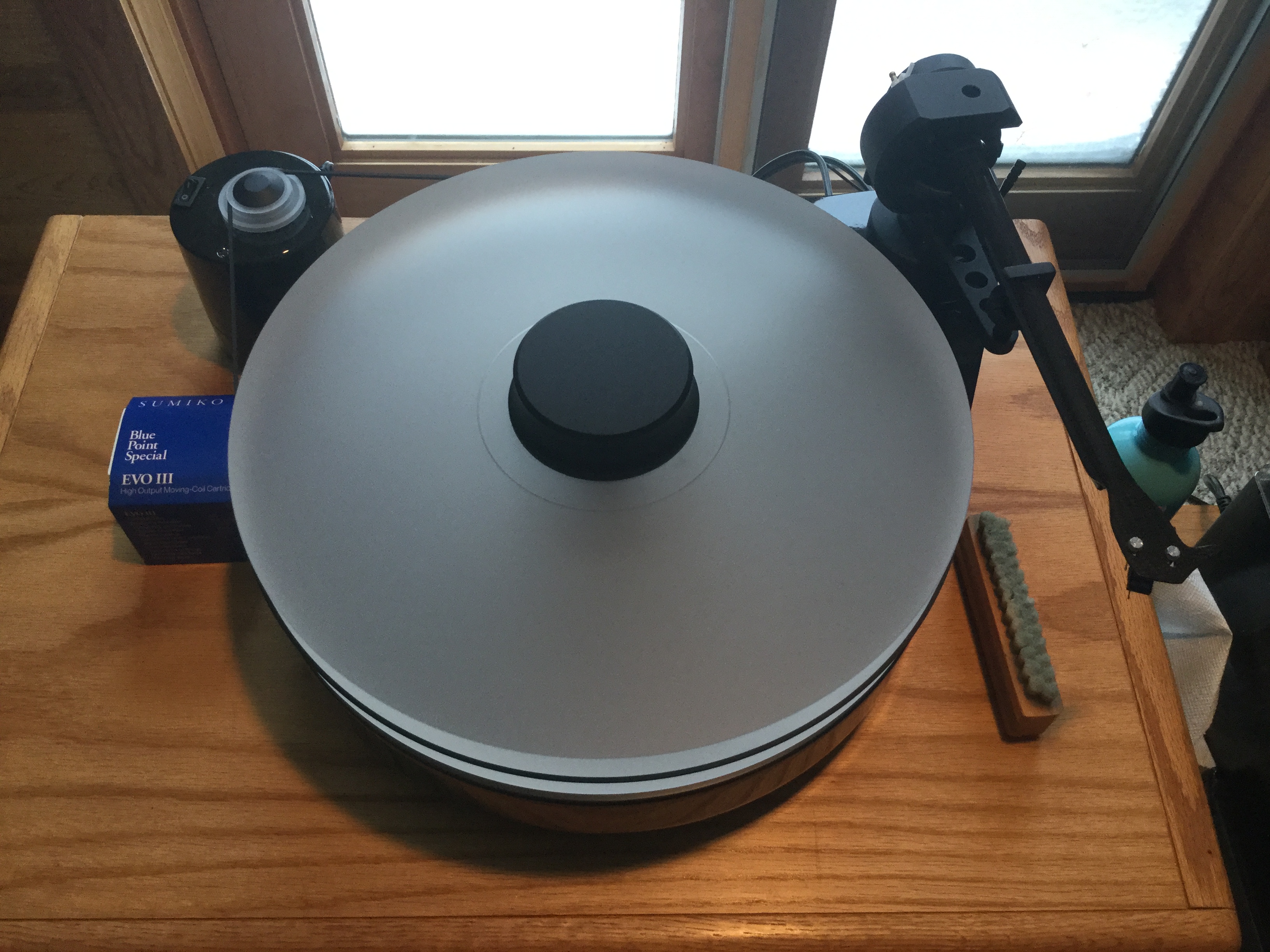 newf27
Responses from newf27
8 track CRUSHES CD,Vinyl and everything else!!!


100' of unraveled snarled tape wrapped up under the trap door of the dash mounted 8 track player, only discovered when you pull it out of of the slot because it stopped playing until you realized....then using a steak knife to dig it out.   

What area or country do you live in ?


The Upper Penninsula of Michigan, the portion north of Wisconsin near Canada.  We call ourselves "Yoopers".  More deer than people.  Deep in the woods, retired with my wife on a freshwater lake.  No neighbors.  Our long cold winters drive me into ...

Looking for thoughts/opinions on tube seller's response to my question...


Have purchased perhaps 100 tubes for my two tube pre-amps and two tube power amps during the last 18 months.  Purpose is to inventory a stockpile good til I die since the price of NOS keeps climbing.  Of these, three (3) were noisy with crackling,...

Best deal on unterminated bulk silver speaker cable for budget audiophiles


Another reasonably priced source for silver plated copper strand cables is to google "amplifier surgery".  Located just south of Chicago.  He hand builds his cables and gets good reviews.  He is on e-bay and on etsy.  I have a pair and they are bu...

Best deal on unterminated bulk silver speaker cable for budget audiophiles


He is located in Iowa and is very fast to ship.  No affiliation.

Best deal on unterminated bulk silver speaker cable for budget audiophiles


Try navships on e-bay.  He specializes in many different gauge silver plated copper wire, very high quality mil spec.  Used on Navy ships and NASA.  I've purchased a number of his products and find them excellent.  Multi strand with each strand si...

How good's your hearing


What I want to know is where can I get an ear cup hat like your grandmother is wearing?  Dare say it would help those of us who have hearing degredation.  May be the best tweak of all.  Just don't let your buddies catch a look.For what its worth o...

How can I punish this Chinese audio dealer


Have had good experience with E-bay refunding, they tend to side with buyers IF you have the documentation.  However, you have to consider the following, and its a lot of work.  Get into their system and file a refund request.  They have a system ...

Nuforce STA200


There was a question on an earlier post about using the WDC200 with the STA 200.  I purchased the WDC200 about 3 months ago to pair with my two STA 200's which I use to bi-amp Martin Logan SL3 electrostats.  I was especially interested in the fibe...

Nuforce STA200


Audio Advisor has demo's on sale for 399.

Nuforce STA200


Nine months ago purchased a pair of the STA-200's to bi-amp Martin Logan SL3 electrostats.  Very satisfied.  After about 200 hours of break in time can verify the good results reported by others.  Liked them so much purchased a 3'rd and sent it to...

Have you had enough of Classic Rock?


Ben collecting vinyl since my teens, now 66.  In the 90's one could hit the weekend garage sales and pick up a big box or entire collections for penny's on the dollar.  Half was junk or damaged, but there were a lot of finds and about 20% were pre...

Do 45 rpm 12" LPs really sound better than 33 rpm?


For what it is worth: I have a number of 12" - 45 RPM "Radio station promotional" disks provided to the stations to support introduction of a new release, along with many of the same recorded pressings in standard 33 RPM.  The 45's were some of th...

I like my system flat, no tone controls, no eq..........what is your preference, and why.


Tend to agree with your evolved assessment of EQ.  I'm 66 and now have the time to tweak my system.  Seldom have I used EQ to get there. 95% of my equipment is straight through with no EQ molestation.  During the last year, finally found the "righ...

Your Forever Pieces? What and Why?


Matching pair of Harman Kardon Citation II tube power amps completely restored with the best components (1961). Matching pair of Dynaco PAS-4 tube pre-amps (Panor version) completely restored (1995), Pioneer PL 50 turntable w/AT 8008 reference car...