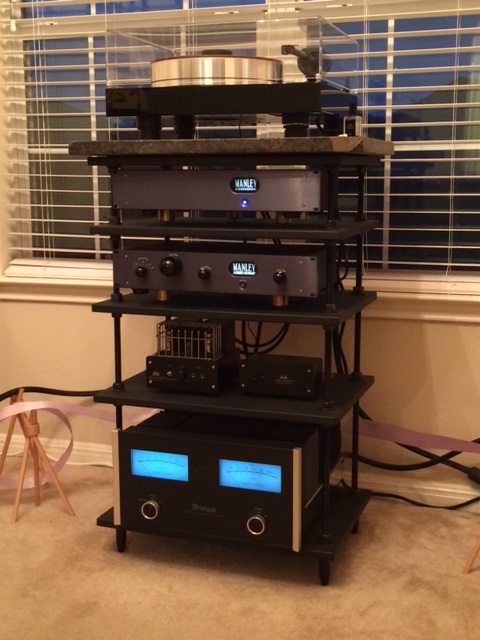 mattmiller
Responses from mattmiller
Tube vendors.


Vintage Tube Services, If your looking for something REAL NOS from a guy that has speakers that are rated at 115db sensitivity who listens closely to every tube for sound quality, from someone who has been buying testing and selling tubes forever...

Jumper wires/ cable suggestions


Those MC 275's are awesome, and they sound incredible too. Cable choices are key to extracting the sound these amps give. I have used many cables from MITs to Monster cable and the cables that really disappear and let the amp shine are Morrow Audi...

Analog to imac


A HiFi man EF2A would work awesome it has USB and a pair of RCA outs plus its TUBED! come on man! $150 new, and its a headphone amp! https://hifiman.com/products/detail/59Matt M

PS auido Direct stream Dac


MYTEC Liberty DAC is only $1000 and it just came out not too long ago, Mytec is one of a short list of companies that excel at building DAC's that sound incredible, and provide a ton of features. They also make the Manhatten and the Brooklyn DAC's...

Need 10ft -15ft MIT CVT Terminator 1 Speaker Cables


Scott is your system naturally BRIGHT sounding? Is this why your using MIT's? Normally we use MIT's to tame a stereo from being to bright, I for one think this is a great time to try some cables that dont have boxes on them, these Network interfac...

Class A amplifiers


Class A amps run hot! And it does lower there life expectancy. With that said if you dont mind the heat it gives off (like some of us that live in Texas do) and you dont mind sending it in after a period of years (it will be needed) then go for it...

DC meter on power amp


Very rarely will tubes be exact. The main thing is, does the tube make noise? Is the tube causing the music to be degraded? Bottom line, if it sounds good then it is good and you shouldnt worry about the tubes so much, enjoy listening. Matt M

Does Steely Dan sound bright to you?


TO the absolute contrary, a clean Original vinyl of Steely Dan's Aja would be many peoples reference. Matt M

Mirage M5 si with Sony STR DA 3000 es Receiver


Sure it will be fine, BUT if you want those speakers to really show you what they are capable of , give them the high quality electronics they deserve! PS I owned a pair of Mirage M3's and my brother owned a pair of M1's, we used McIntosh amplifie...

Youtube listening via optical to a dac


Any soundbar or self powered speakers are doing this already. Just saying. Also, many stereo DAC's dont accept multi-channel sound like AC3 only 2-channel stereo sound. So if you skip the processor your limiting your surround sound capabilities, I...

Primaluna Prologue Premium CDP Heat Concerns


Yeah man tubes run hot! Show me a piece of tube gear that doesnt. And if you wanna call the awesome magic that goes on inside a little glass bottle, Model T technology, then be my guest. (more tubes for me) Matt M

What are Your Favorite Tweeters?


The Dynaudio ESOTAR and ESOTEC cloth dome tweeters are used by many high end speaker manufactures and is one of the sweetest and delicate sounding tweeters I have ever heard. Also, The tweeter used in the EPOS ES22's or ES11's is a very very good ...

Sub-$1250 DAC w/ built-in Headphone Amp


Do yourself a big favor and buy the Mytec Liberty II DAC it was first on your list for a reason! And I can say if you give it a great source (like a Aurender streamer) it will not sound digital or cold or anything but amazing! The source matters b...

Issue with Mc 5200 Amp shutting down...


Im glad things are working again :-)

Audiophile router configuration


The problem is WiFi is not where the sound quality happens no matter what speed, this is all irrelevant, US audiophiles want stability, steadiness, strength! that's what using WiFi means to us. Ones and zeros are ones and zeros until they hit a Hi...