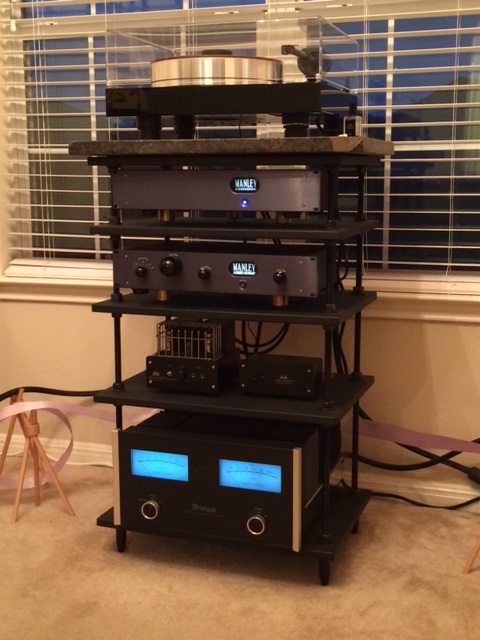 mattmiller
Responses from mattmiller
Price Trends for Streamers?


I have been away from Digital for seven years or so and now that I am thinking about adding a digital source into my main system the only option seems to be a stand alone streamer (physical discs bad!....here we go agian)... So if your not into pa...

Phono Stage for a VPI Prime Scout


Seriously though you could look at a Musical Surroundings NOVA for $1200 (new), but if you can find a Manley Chinook for around $1500 its a whole different level as far as detail and air and space also beauty of tone with the Manley Labs :-) Matt

Phono Stage for a VPI Prime Scout


The more you spend on upgrading the more sensitive your system becomes in showing how bad new records sound, I hope you have a big collection of clean sounding original records to play on a VPI Prime with a Manley Chinook!

Tri-wired speaker cables for bi-wire Audio Note AN-E speakers?


Kimber Kable is an excellent choice for this application, due to the fact that they have the proper number (12,16) of individual SOLID core conductors with three different sizes! One cable can be terminated with three sets of banana plugs or spade...

Tablet for Streaming


How about a streamer??

Tidal/OPPO streaming issue


Is the Oppo plug into a CAT 5 or are you using wireless? I am also thinking about buying a Bluesound Node, any thoughts? What other streamer is better for $500? thanks .Matt

Need preamp recommendation


McIntosh C22 :-)

Set-up with two subs and an integrated amp


REL subs use the SPKON connection which utilizes your amps outputs. No RCA sub-out needed.

M&K Bookshelf 75 or Elac Debut 2.0 B6.2 ?


For $200 you cant go wrong with the Elacs. I would by those over M&K's, and suffer through the burn in period...itll be worth it.Matt

Next step in improving digital chain?


PC's are fing noisy, are you using a optical cable from the PC? This will be the best for electrical isolation, after that you can connect anything and it should be noise free all the way down the line. I have used a Optical cable from PC to a Mon...

Wich is better


Go with the PS Audio,,,,,Its a beast.

MODWRIGHT KWA 150 GOOD AMP OR NOT?


Yes, Yes, And Yes! To answer all your questions. Also, Modwright preamps go really well with this amp. The KWA 150 is a beast and a battleship. I have always loved the Modwright sound, warm accurate and tonally beautiful with great low end punch a...

6H30 tubes vs the others


I had a BAT that used 6H30's and of all the pre amps Ive listened to I liked its sound the least. Give me a 6922 any day, having said that I also like the 5687 thats used in early Modwright preamps and Manley labs Jumbo Shrimp. Matt

New TT for ~$1500


IMHO The Rega P3 is the table in the $1000 range, Although I would immediately throw a Dynavector 10X5 on it and some groove tracer upgrades...like the platter and sub platter. Also a good solid platform for more isolation help really make the P3 ...

Transparent Balanced Interconnects and their generations


Stay away from these unless your system sounds terribly bright and you want to warm things up. Speaker cables with boxes on them I do not recommend anyway.