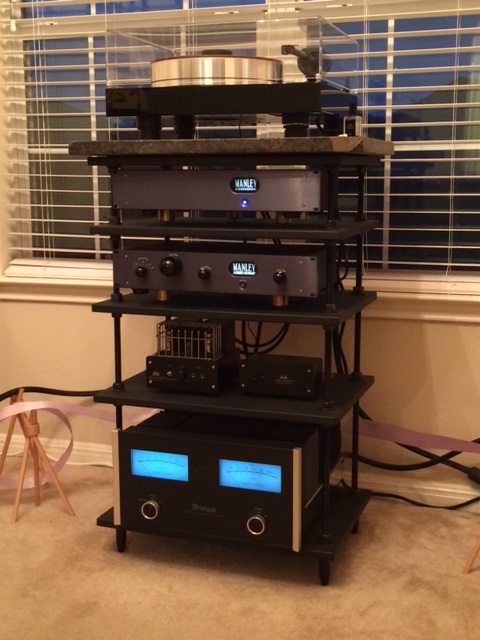 mattmiller
Responses from mattmiller
Yamaha turntable YP-211 question


I'm sure the sound would be changed if the bottom cover was in place , it also is where the feet mount. I would get a piece of pressed wood or even plywood and replace.

Rega P25 cartridge upgrade


Hi Thom, I can tell you with the utmost certainty that if your looking for a big upgrade in sound from a cartridge, look no further than the Dynavector 10X5. This is a high output MC cartridge that will work fine with a MM phono input/stage. All I...

Aurender vs. Roon


" Aurender does perform well but the lack of true Roon compatiblity is hurting them "This is a laughable statement as Aurender is the clear choice for anyone who cares about the quality of sound in there home. The conductor app blows away everythi...

Turntable got absolutely crushed by CD


I dont care what edition Denon DL103 you are using, they are average at best (these were the goto cart for radio stations). Also, The tonearm is not the problem, put that Dynavector on it and you will hear a huge difference. I want to say that If ...

Time for a Pre change? Need the wisdom...


There is nothing wrong with the sound of a correctly functioning C41 MAC. I doubt that it is the problem look else where in your system. C41's are clean clear and detailed with great high's typical of of a McIntosh preamp. Matt M

Anyone with Manley Chinook use a custom Power Cord?


Okay I use a Signal Cable "Magic" Power cord with my Manley Labs Chinook and it makes a big difference. What I found was a much tighter overall sound if that makes sense, everything improved. Also, putting some brass weights or something to dampen...

Best MM?


I use a JA Michell Gyro SE with the latest Gen Techno Arm and so far the Two cartridges I really love in the $1K range are the Dynavector 20X2L and the CA Maestro Ebony V2. Now these are both completely different in great ways....The Maestro is be...

Regards Apollo R vs. Saturn (used)


I know you dont wanna hear this, but is buying a older used player that you dont know anything about better than using your Apollo R as a transport and find a great DAC? I like the Apollo for its top loading CD, older players just tend to die quic...

Music Server/Player for NOS R2R DAC


I like the Aurender idea a lot, they make streamers that are not too costly...but what you get is phenomenal in terms of SQ, USB 2.0 audio output, user interface (conductor app) and internal storage (most have at least 2TB's) plus external drive c...

Stereo EQ in the hifi world ...?


SAE made equipment with parametric eq's. The most favorite EQ's by far from back in the day were made by Soundcraftsman.www.ebay.com/i/163189011750?chn=psMatt M

My dilemma


Maggies are better served with a strong solid state amp i think. (maggies are tough to drive). I would also KEEP your MAC & CJ and find some better matched speakers, later on. Matt

Problems with Martin Logan ESL speakers accepting a banana plug?


Maybe try a different shaped banana plug? Some can be easier than others to work with. Or you could try and Crimp the banana plug your self using a pliers and make it fit! If they are 5 way binding posts (they should be) you can unscrew the knob a...

MC300 MC252 MC501 recommendations based on my setup


I use a MC352 (this amp was designed by Charlie Randall one of the best sounding SS amps they made) with a pair of Dynaudio Contour 3.0's, these speakers are rated at 200watts, I can easily drive them up to 350-400 watts (i like music loud too). O...

Blue Node 2 ... ???


Hands down the best streamer for under $500......Bluesound Node 2 all the way!

Morrow Audio re-design announcement: No more Ag coated Cu; Increased numbers of runs.


Mrdecibel.........Im sorry but your argument is based on lunacy. I take it then that everytime your smartphone gets upgraded by Apple or Samsung that you feel duped by the company for which you obviously choose through some leap of faith, that thi...