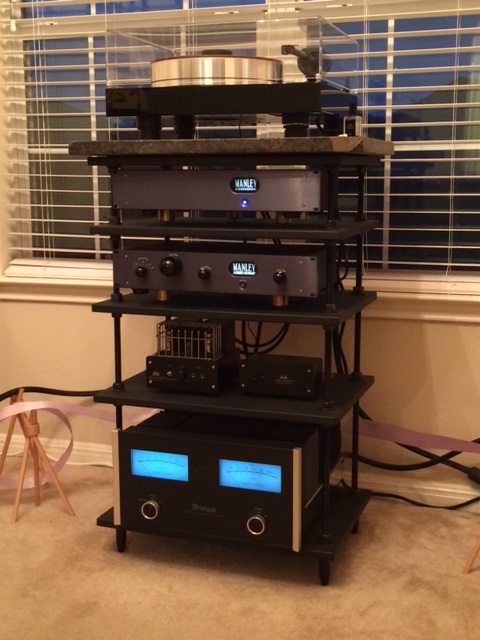 mattmiller
Responses from mattmiller
What is the better sounding turntable: Project 1XCarbon or the Rega P3 ??


Me too ......REGA! Plus with the REGA you can dive into all kinds of Groovetracer upgrades when you see fit. Way recommended! Also, The best combination I have ever heard was the 1st gen ($450) Dynavector 10X5 this made a very lively, engaging, hu...

Threshold, Levinson, Bryston, Krell, ?others? used amps


When it comes to PRE owned amps, I would buy a McIntosh if I were you. Matt

Can a McIntosh MC7205 handle Polk Audio RTi A9's?


If you want to hear the speakers playing the 120w per channel is fine.....But if you wanna feeel the music and be THERE at the event you will need more power, these speakers are rated at 90db sensitivity and I suspect even with their nominal 8ohm ...

Recommendations for Blu-ray Player


OPPO BDP 105, Buy one if you can find it. Luckily OPPO was forward thinking enough so that you dont need firmware updates or any kind of updates. The great news is it will handle all your requested needs and then some!  I would buy one in a heartb...

Sound drops out for split second every few minutes.....


Id point to the laptop not the AYRE, or try CAT 6 cable (higher speed).

Replace Carver TFM 15?


For 2-3K I would suggest (if you really want a leap forward) a pair of KEF LS50W's speakers ($2500). These are ready to go and use a very similar driver that is in the KEF Blade ($30,000). I know your talking electronics but these have everything ...

Turntable feedback rumble problems with new sub


I like the Idea of using granite, I went to the stone cutters place and when they make an area for a sink they have to cut out a big square piece of granite and then toss it out! I was able to get a nice size piece for the top of my stereo rack, i...

Does it improve the sound of a MM or MI cartridge by playing it through a phono stage?


"Does it matter if it is a MC or MM/MI cartridge?" Yes it does matter a lot! The Phono pre amp is the gateway to great vinyl sound. And of course they all sound quite different. $1200 dollar solid state preamps are great and $2500 tube preamps a...

Building your own HiFI rack (hasn't been discussed in a while)


If you decide you might want to Not build it yourself I highly recommend the Salamander Designs Archtype system with Cherry wood shelving. These have options for spikes or caster rollers or rubber caps and each self is infinitely adjustable and is...

Newb Tube question


AAAAAHHH Tubes :-) They are like little bottles of electronic wonder and joy. However, being new to tubes in 2020 is to embrace the term "made in Europe or Asia" Of course anyone with an old warehouse and a tube tester is now on the tube bandwagon...

Price Trends for Streamers?


I have been away from Digital for seven years or so and now that I am thinking about adding a digital source into my main system the only option seems to be a stand alone streamer (physical discs bad!....here we go agian)... So if your not into pa...

Phono Stage for a VPI Prime Scout


Seriously though you could look at a Musical Surroundings NOVA for $1200 (new), but if you can find a Manley Chinook for around $1500 its a whole different level as far as detail and air and space also beauty of tone with the Manley Labs :-) Matt

Phono Stage for a VPI Prime Scout


The more you spend on upgrading the more sensitive your system becomes in showing how bad new records sound, I hope you have a big collection of clean sounding original records to play on a VPI Prime with a Manley Chinook!

Tri-wired speaker cables for bi-wire Audio Note AN-E speakers?


Kimber Kable is an excellent choice for this application, due to the fact that they have the proper number (12,16) of individual SOLID core conductors with three different sizes! One cable can be terminated with three sets of banana plugs or spade...

Tablet for Streaming


How about a streamer??