Products for raising cables off the floor.
---
What are the best products for raising cables off the floor? This would include speaker cables, interconnects, and power cables. Also, what kind of distance should I keep between the power cords and the interconnects? I have wall to wall carpeting. The run from my preamp to my mono amps is about six feet each. The run from the amps to the speakers is about four feet each. The run for the power line to the amps is about five feet each. Any information would be helpful. Thank you, Kevin
hi kevine
your runs are fairly short. a riser in from each end of the cable will relieve the stress on the cable, so you should be ok with 2 per cable. i don't know what the best risers are, each may or may not have different impacts on your system. it's not cost effective to try all of the risers out there and reviews are only specific to the systems that the products were reviewed on. so you will have to make your decision on what you feel you're comfortable with aesthetically and financially.

i dabble in tweaks for my own system and developed risers for my own application. here's the website:
www.corbytweaks.com

i have made them double high and 4-high as well for specific applications.
any questions, please feel free to e-mail
don
Personally, I like the risers available from Signal Cable (look under the specialty items) and for a few reasons.

One, they look pretty good (they seem to blend in with any decor, being clear.)
Two, they are cheap.
Third and most importantly they have a very small contact surface with the cables, suspending the cables more than some designs, wich seem to "carry" the cable.

You might want to check out Audiogon member Raggamuffin. I see under his system he has made some, using Orangina bottles and chopsticks. What the heck.
Kevin,
As a good rule of thumb, you should try to separate your cables by about 3 - 4+ inches from each other and then raise them 4+ inches off the carpet with something that does not store electrical energy. Where cables must cross each other, do this at a 90 degree angle and don't let them touch: place a piece of wood (balsa works great, so do wood paint stirring sticks from the paint store) or crumpled paper towel between the cables to hold them apart.
Good materials for cable supports are wood (balsa is great), paper (e.g., paper towel roll tubes or even crumpled paper towels) or ceramic (e.g., a coffee cup - but be cautious of glazing that would contain iron).
Tripods of wood dowels (three dowels held together with a loop at about two-thirds of their length) work well. Another fine solution is to suspend the cables with string (attaching one end to the wall and looping the other end around the cable). In my system, I have several cables lifted out of the way using masking tape loops.
The point is, effectiveness need not cost anything, as demonstrated by this very high-end, very highly tweaked, setup in this photo: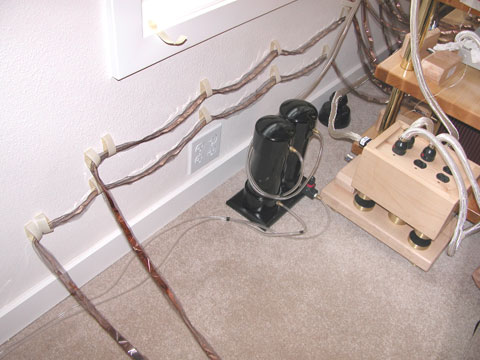 from:
http://www.positive-feedback.com/Issue23/proscenium4.htm
or this:
from:
http://www.6moons.com/industryfeatures/walker/walker.html
Consider trying the no cost avenue first and see if you don't get some pretty positive results. Certainly works here in my system.
Cheers,
Two to three inches off the carpet is fine.

Anything non-conductive will work. I've seen styrofoam cups, chopstick tripods, dowel tripods, antique power or telephone cable insulators (that's what i use - 5$ a piece and they look cool - green glass usually).

You can suspend the cables in place with whatever is non-conductive and relatively obcured by the cable color. My cables are black techflex covered, so i use black nylon thread...doesn't need much support to keep them there.

I don't think you got an answer for proximity. I'd like to see a post from someone with a clue. Perhaps do a search on the cable asylum on www.audioasylum.com.
Hi Yi.

Both but for different reasons. Wooden floors are prone to vibration which can feed through and smear imaging and even obscure small details. Obviously, a good carrier should isolate the cable from such an environment.

Carpeted floors are prone to hold some degree of static charge. this can, in my experience, change a cable's sonic signature to something other than the design criteria the designer had in mind. Getting the cable anywhere from 6" to 8" away from static influences should do the trick.

Lifting one's cables off a floor, even a concrete floor, will allow the cable to perform without introducing extraneous distortions and influences but know that this tweak is usually not a huge upgrade though sometimes it is as some, including myself, will report. It's another detail that's worth the investment and effort if you want to do all you can to dial in your system's performance.

Lowering the floor is a good solution if not expensive as is "flooding" your floor with a 6" level of a very high viscosity silicon fluid. But, that's not only expensive, it's also very difficult to wade through and if you have pets, they can get stuck in it and suffer dire consequences.

BTW, those glass insulators that some use are DANGEROUS!
If one breaks while dressing cables, you can sever an appendage and if one of your power cords rests atop of one and the cord develops a fault and shorts out, it can cause one of these isolators to explode sending glass shrapnel everywhere.

Even with our Risers we advise and give precaution measures on how not to use them. I suppose it wouldn't be too hard to get your head stuck in between the carrier poles or get tangled in the carrier line and choke to death.

Consumers Report has surveyed and reported a 42% increase in Cable Riser accidents since 2000 so, I guess hi-end audio is still growing.

Cheers!

Robert
RSAD
The mention above of antique telephone pole insulators, which where I grew up were made of glass, made me recall a post on this topic that was made about a year ago. The writer told of buying glass candle bases (the kind made for wide, stubby pillar candles) for about $2/each from Pier 1 Imports. That seemed like a brilliant idea for anyone considering trying cable elevators.
DIY cable risers. Go to Home Depot and get some 1.5 inch PVC couplers in the plumbing department. They are about 2.5" off the floor. Just set your cables on the rough side so they do not slip (the side with the lettering).

Best DIY, $$ saving tip I have found on A'gon.

$0.61 each for as many as you need! Low tech may be best.

AL--