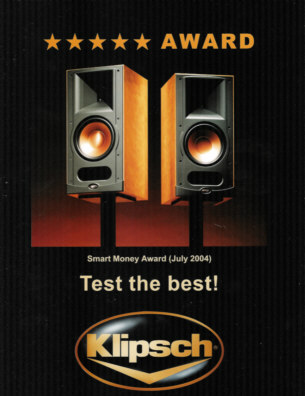 willland
Responses from willland
Integrated amplifier sound


I too have found Acurus amps to be very punchy bass slam with great reserves with my very efficient Klipsch speakers.  Millercarbon is spot on with the "right 20 watts" comment.  My Acurus amps(A200/A200x3) are spec'd at 200w/ch and barely break a...

Power Amplifier To Pair with Klipsch KLF-20's


If you like less power than the 5800 has and without the excess noise, look at a used Anthem MCA-2 or MCA-20.  Some of the quietest amps produced at 120dB+ S/N.  If you can find an MCA-2, it should fall at or below your $600.00 mark.  The MCA-20 m...

Cambridge Audio Azur 640A better than Audiolab 6000A ?


I don't know which is "better" but do know that the CA 640A v2.0 sounds wonderful driving my Klipsch Heresy IIs in my master bedroom room rig.  Great dynamics with a spot on neutral presentation.  Very punchy and fast for it's 75w/ch.Bill

Amplifier or Receiver


"I finally decided and bought Yamaha A-S2100 integrated amplifier and Yamaha BD-A1060 Blu-ray disc player. It has a DAC as well as music streaming."Great choice on the amp. The BD-A1060 does have a DAC to convert it's onboard digital signals to ou...

Amplifier or Receiver


"  I believe a DVD/Blu Player will have one too. Thoughts?"Some do but not all.  My Oppo 105 does.Bill

Amplifier or Receiver


" What's the best choice?"I don't know about "best" but this is what I would go with for the $$$. 2. Yamaha A-S2100 for about $ 2300 " Nos. 2 & 3 don't have DACS. Will I be able to run my TV through these?"If your TV has left/right RCA out...

Upsampling and the FR of a DAC


My understanding is if you do upsample, then stay within the same "family".  For example, 44.1, 88.2, 176.4, 352.8 or 48, 96, 192, 384.Bill

Amplifier or Receiver


How about this NAD C368 and add an HDMI module. https://www.safeandsoundhq.com/collections/integrated-amplifiers/products/nad-electronics-c-368-hybrid-digital-dac-amplifier-factory-refurbished https://www.safeandsoundhq.com/collections/upgrade...

Does anyone collect something else other than music.


Cast iron skillets, kitchen knives.  I have collected a few vintage Wagners, Lodges, BSRs, Griswolds, as well as a couple of modern Lodge pans.  Use them all.  Also enjoy my Miyabi Kaizen knife set and Zwilling Pros.  I guess you could say I have ...

Good cheap amplifiers like Parasound HCA series?


Find one of their New Classic stereo amps like the 2250 v.2 or the 2125 v.2.  Believe me, these amps can thump.  Similar if not identical topology to the HCA series.. https://www.audioadvisor.com/prodinfo.asp?number=PAC2125V2 Only linked the che...

Heresy IVs


Do you have the Heresy IVs placed exactly where you had the Heresy IIIs?  Believe it or not, that variable "could" explain things a bit."I believe what you are hearing is the difference between the ported H IV vs the unported H III. Ported speaker...

Volti Audio's Razz Affordable Towers


" Looks like a better Forte III. Greg does awesome work.Interesting........ "@ozzy62 ,My thoughts also.  Bill

Heresy's II Finally Sound Right-sorry if there's a place i should have put this post....


Glad you are in musical bliss. Never owned tubes but have heard them with many a Klipsch Heritage and the combination is magical. Been putting off my recap for my Heresy 2's way too long.  Recapped my Heresy 1's about 10 years ago and and adde...

New Yamaha integrated amps


Here we go again.Bill

New Speaker / System Suggestions


My current set up is a pair of Martin Logan Motion 40 speakers driven by a Yamaha AS2100 integrated. I'm trying to gain more clarity with better dynamics and imaging. Maybe a pair of Klipsch Heresy III's or IV's.  The Yamaha's warmish tone will ...