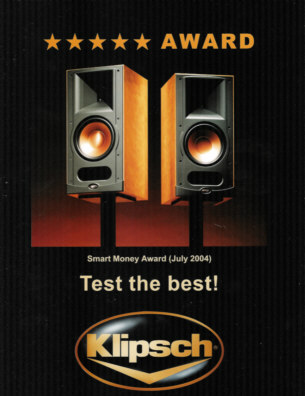 willland
Responses from willland
Klipsch vs. Dynaco A25


I have an Onkyo TX-SR705 as my preamp with a 200w B&K 3 channel powering my Forte's. I think they sound great together but a friend of mine is bringing over his vintage tube amp for a demo soon. He says I will be blown away by the crispness an...

Klipsch vs. Dynaco A25


I don't know much about the Dynaco's but I do know the Heresy's(I,II,III)do not dip down much below 60hz. May I suggest a pair of Forte's(I or II). With them you get great dynamics, match well with tubes, vintage look, and used prices from $400.00...

Best floorstanders under $600


Klipsch Forte's. $400 to $600 in used market. From my experience, most Klipsch owners of these classic or heritage speakers take good care of them. Take a good look at the passive radiators on the rear, if any damage to the speakers this is where ...

Blue Ray Concert discs


For Floyd freaks, David Gilmore-Remember That Night-Live at The Royal Albert Hall. With guests Crosby and Nash and David Bowie. And of course Richard Wright. His last taped live performance. So sad. Gilmore's riff's are commanding and melodic.Bill

Very small very sensitive floor stander 1000?


Take a look at these Klipsch RVX-54's. I have their younger brother the RVX-42's in my bedroom and they sound great. The 54's are 98dB efficient and have a small footprint(7"x6.5"w/stands). They really sound a lot bigger than they are.http://www.a...

AVR - Video Processing Chip?


The main advantage to having a good video processor in your avr is upconverting your sat/cable tv signals to 1080P. If that is not a major concern of yours the the DVD/BD players processor would be fine whether the ABT or Reon/Realta.By the way, I...

b&k amps


Love my B&K Reference 4430 200w 3channel. Very neutral. Mates very well with Klipsch speakers(KG4's and RF-63's). Built like a bomb shelter. Cool running. Very good used prices. Built in the USA.Bill

Construction Question


Level floor, sloping ceiling(low in front,higher in back), sidewalls not parallel(closer together in front, wider apart in rear). You will need a good framer and drywall crew to accomplish this. Found this after web search:http://www.hometheaterhi...

A/V power conditioner under $200


Very happy with my Monster HDP2400. 8 outlets,2 coax,1 phone jack. Very low profile(<2.25 inches). Take a look at this:http://www.onecall.com/ProductDetails.aspx?id=87619Bill

which components to buy?


That Z9 is a beast. Amp and transformer rivals many dedicated amps. By the way, Yamaha makes the Z9. If you don't need HDMI, find another one in the used market.

B&K Reference 4430 3-channel


Thanks for your response. I didn't check for responses earlier because I forgot what forum I asked for adviceon. I took it to a local repair shop and he opened it upand resoddered some circuits and cleaned oxidation where neaded and now it works l...