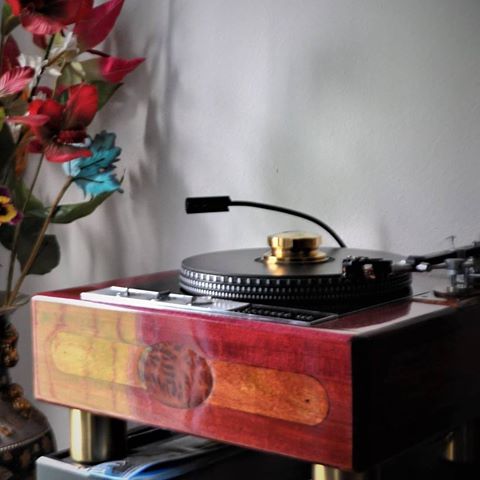 islandmandan
Responses from islandmandan
Universal disc player recommendation


My Esoteric DV 60 went TU. I found a nice Arcam DV 139 that is outperforming the DV 60 in every way. Cost me about $750.Regards,Dan

Very small room! Help me with monitor speakers


I wanted to upgrade my surround speakers. My old KEF Q 15.2 speakers were still good, but it was time to find something a bit better. I looked for a better KEF speaker, but couldn't find any in my price range.I then found a pair of beautiful Pione...

New Totl Headphone amp


shkong78, sorry, but I can't recall your name anymore, but it's nice to hear that you are enjoying yourself so much. At one time, I was planning on a visit to your home, but things came up that squelched that plan.It seems you are doing well, so s...

Biwire fix


I would look at VDH Audio for parts, and check with MIT on what it would take to re-terminate your spade connectors. If it's not much of a job, you might consider doing it yourself.Best regards,Dan

Discussion of Class D Amps Application & Experiences


I use Class D Audio CDA 254 amps in my HT side of things. With a nice tube line stage (Modwright SWL 9.0 Line Stage), with excellent results. They were kits, and the amp for my main channels has an upgraded power supply with two modules bridged to...

"Odd" looking 845 tube


Al, you are a marvel of your ability to not just acquire information, but to understand it, explain it, and share it.Thanks again, for being who you are, Stay well and happy,Dan 

Older And Wiser or just Tighter and Deafer?


jdmccall, I am 73, and in spite of Tinnitus, and normal hearing loss, I still enjoy music, and my system. Some recent changes (upgrades) were quite noticeable and appreciated by my old ears.I'm still trying to find a way to afford the amp I really...

Russco, QRK, Sparco, Garrard, Thoren, Fairchild, Roberts


Olhvymec, I use a Garrard 401 in a plinth I built (after restoring the 'table), and mounted a Dynavector 501 arm on it. I'm really happy with this system, and don't worry about upgrades on my analog front end.

A Soundsmith Re-tip Believer


I had my old Dynavector XX2MKII refurbed (as Chakster put it), and to my ears (with the new ruby cantilever), it came back a better cartridge than I remember it being new.As a nearly $2000 cartridge, a $400 refurb is a good deal, at least to me.BR...

Floored by Beatles "White Album" Reissue


That's a great find, 'olhvymec. You're an 'olhvymec, I'm an old hvy machinery breaker. Both trades were hard work, and hard on the body.Enjoy your equipment, enjoy the music, and stay well (home).BR,Dan

Shelter in Place Qobuz Binge?


That's why I do not watch the news. Better things to do. Life can be hard enough without being inundated with all the crazy crap going on all over this world.

What to upgrade to?


Turntable-wise, you could stay with what you have, and try an additional arm (Chris would probably be able to nicely add a new arm, or, you could change arms for one that would enable you to change cartridges by just changing head shells.)I use a ...

Floored by Beatles "White Album" Reissue


I would consider the Abbey Road Giles Martin reissue as well, but I already have an original issue, and a Mobile Fidelity reissue already, so I probably won't go after that one.Dan

Floored by Beatles "White Album" Reissue


Mapman, Dave,Especially the Esher demos really showed just how good the Beatles really were, so I couldn't agree more.

RIP Art Dudley


Art was a great influence on me. He turned me from a tight-assed sand-head to a lover of tubes, and back again to turntables (along with Mikey F). I'm enjoying the sound of my system much more now due to him doing a wash and rinse of my opinions r...