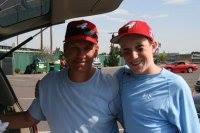 early
Responses from early
What were the radio stations of your youth that helped you on your music/audio journey?


KUT - Austin, TX. With one of the great DJs, the dearly departed Larry Momroe. 

Downfiring subs on carpet?


My pair of Zu Undertones sat on carpet for years. A couple of months ago I placed wooden cutting boards underneath them, and to my ears/brain, I think the sounds is more defined. 

Triode Lab 2A3S - Any Insights?


I have enjoyed my Triode Lab 2A3M amps very much. They compare very favorably to Mastersound and Audion amps that I have owned in the past. Differences are that they are quieter and more dependable, while still emotionally engaging. Great value SETs.

Apple tv and 4k, but no receiver


I bought an hdmi converter box to change the hdmi signal  into the tv and Apple TV, out to spdif or toslink. Cheap and does the job. I believe mine came from Amazon. 

Interested in listening to Antipodes.


It seems like Antipodes has made some big advances. Looking forward to hearing your impressions of the DX gen 3. Will you be selling the DS?

Interested in listening to Antipodes.


Thanks for the reply ricred.Looks like some significant changes with quite a few options.Does anyone out there know of a west coast retailer?Thanks

Any recent reliable source of Shuguang 845B tubes from China on the Ebay or web sites?


Hi kit. Five years and still sounding good. I know others that have gotten long life from them as well.

Any recent reliable source of Shuguang 845B tubes from China on the Ebay or web sites?


I bought a set of Psvane 845Bs from TubeMan.com last June. They have been completely reliable, and to my ears sound better (more extension in both directions, and airier) than the Shuguang 845Bs that I purchased from him 5 years ago. I run them in...

Soundtracks and Film scores, your favourites


Two of my favorites:Nebraska -  instrumental sound track by Mark OrtonBig Night -  beautiful Italian male vocals, Louie Prima, and some jazz

Zu Audio Omen MKII


Hi jesusaO,You should check out 213Cobra's post entitled Zu Druid & Definition Roundup.He addresses the differences between Druids at the beginning of what is a very long post. It's very good.early

Zu Audio Omen MKII


II's are always better than I's. Or at least they should be. I know that my Druid Vs sound significantly better than the IVs. Just call Zu. You will get honest info. One of the many things that I like about Zu gear is that it is constantly evolvin...

Soundtracks that you listen all the way through and it's all great.


Nebraska and Black Hawk Down

Dan Hicks has passed away.


One of my favorite song titles ever, "How can I miss you if you won't go away?"We'll miss you Dan. 

Zu audio advice


I have a set of Zu DruidVs, and Undertone subs. I live in Southern Oregon, not exactly close to you, but you're welcome to listen to them if you're ever down this way. IMHO, they are wonderful speakers. Zu also makes excellent and affordable cable...

A sad tale of tube problems...


Scott, I'm curious, which of the issues you mentioned did you have with the Audion pre?