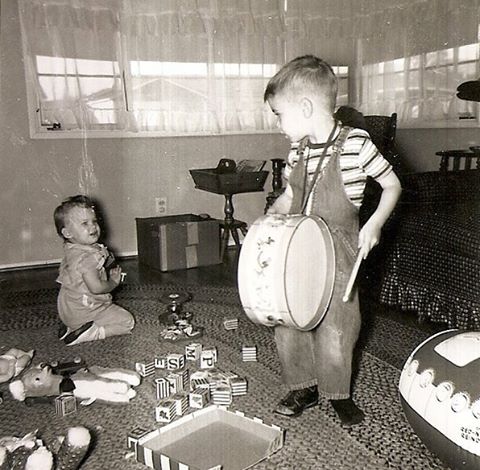 bdp24
Responses from bdp24
Whats on your turntable tonight?


That's the one, @spiritofradio. The song is "Taurian Matador". I would provide a link if I weren't such a computer 'tard. Maybe someone can point me to a computer primer that will show me how. Until then, just search Leland Sklar on YouTube, and h...

Whats on your turntable tonight?


@l_damon, speaking of Cobham, bassist Leland Sklar has a YouTube channel on which he posts a video everyday, playing along with songs he was the bassist on. The song today is a from a Cobham album (I forget the title), and the song---and the drumm...

Whats on your turntable tonight?


Now ain't THIS funny: me being seen as a Grateful Dead proponent!

Whats on your turntable tonight?


Yup @j_damon, I bought the Old & In The Way album at the time of it's original release, as previously mentioned somewhere here. I agree, the Dead were a live band, not a studio one. However, their first three studio albums captured them pretty...

Updated Crossovers for Apogee Stages


Danny Richie at GR Research (a x/o design expert) will replicate the stock x/o with upgraded parts. He'll send them to you, and you can do the soldering or have a local technician do it for you. Watch his GRR Tech Talk Tuesday videos on YouTube fo...

Great country recording


Right, @boxer12?! Even cooler, Todd ended up working with Grisman, as an equal. All it takes is talent! Todd, like the rest of us suburban musicians, became interested in Roots music after hearing it played by The Band and the other great late-60'...

What's in your CDP tonight? the minority report


The Thorns: s/t. Three good songwriters and singers, great production (by Brendan O'Brien) and engineering, Jim Keltner on drums. Excellent music, mighty fine album! Issued on CD only (to the best of my knowledge) in 2003, currently out-of-print. ...

Phono Stage for a VPI Prime Scout


How much ya wanna spend, tops?

Whats on your turntable tonight?


My thoughts on The Dead are over-simplified. I loved the first three albums, and saw them live in '67, in Golden Gate Park (with The Airplane and Country Joe & The Fish). At that time they were still kind of a Garage/Biker Band, sounding more ...

Anyone know a good place to have pre-Compli Theta transports worked on?


If your problem is the common one of the disc drawer no longer opening, you can do what I did: buy a new belt (that turns the drawer-opening gear), and put it in place of the old one yourself. Very easy, and almost free.

Whats on your turntable tonight?


@slaw, The Thorns album is SO fine! Hard to miss with three good songwriters ;-) . I know Matthew Sweet and Pete Droge are huge Brian Wilson fans (I'm less familiar with Shawn Mullins), which may explain the advanced chord structures of the songs ...

cable connection


Not mentioned, but if the system has a record player, the tonearm internal wiring if it needs it. An uninterrupted run from cartridge clips to RCA plugs.

Youngsters these days.


@noromance, I had to look up FTW. For The Win, or F*ck The World? ;-)

To clean or not to clean?


New LPs may look clean to the naked eye, but aren't necessarily. Plus, don't you intend to get into buying used records? They REALLY need a deep cleaning. You may eventually want to get an ultrasonic cleaner to augment the VPI.

Youngsters these days.


Who cares what a contemporary 24-year-old thinks about anything, let alone hi-fi? When I was 24, I had an ARC/bi-amped Magneplanar Tympani/Thorens-SME-Decca/Revox system. What's this kid have, ear buds?