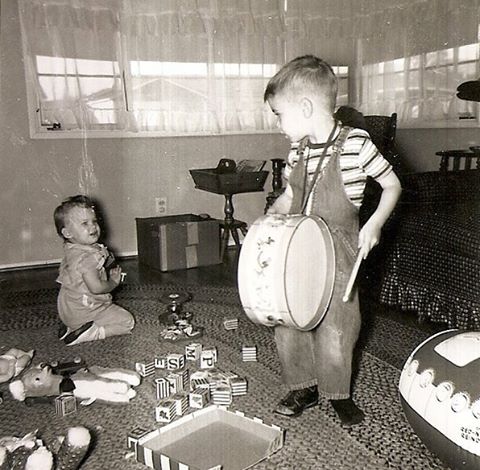 bdp24
Responses from bdp24
What makes for a "good" musician?


The late Danny Gatton (himself a virtuoso guitarist) to his new drummer, after the first set of the night:Danny: "Hey, ya know all that fancy sh*t you play?"The drummer: "Yeah."Danny: "Don't."@frogman, you're Miles' quotes are what musicianship wi...

Preamplifier, in need of input


Both the 868 and 912 pre's from EAR-Yoshino have two pair each of single-ended (RCA) and balanced (XLR) outputs, the balanced via EAR designer Tim de Paravicini's well-known excellent transformers, wired in accordance with AES 48. Tim did the elec...

Good Stereo Speakers for outside use during BBQs, evening pot luck dinners etc


Altec A-7's (Voice Of The Theater) speakers. Just throw a tarp over 'em when not listening. They were made for P.A. use, including outdoor concerts. One band I was in had a pair (our P.A.) in the living room of the band house. Party on, Garth.

Looking for suggestions on best small footprint speaker under $4K


Julie, the LFT driver is a push-pull magnetic planar design (magnets on both sides of the Mylar)---resulting in very low-distortion, with low-mass conductive traces vapor-deposited onto the Mylar. The 1.7i is a single-ended design (magnets on only...

magnapans.7i and subs


To use the Speakon with the Rythmik/GR Research OB/Dipole Sub requires an additional connector in the signal path (the Speakon, of course), and two pair of speaker cable runs rather than one. Without the Speakon, the output of the Rythmik A370 pla...

Bob Dylan - new album just out on Tidal - Rough and Rowdy Ways


Actually, Robert Zimmerman WAS a member of a Rock 'n' Roll band, while a high school student in Hibbing, Minnesota. I forget their name, but can you imagine having been in that band with him? Who knew?!

What makes for a "good" musician?


Having you own voice is a great attribute, but I've heard plenty of musicians of whom that can be said whose playing I don't care for. One thing I have noticed is that the songwriters I love are fond of the musicality of the same musicians as am I...

Pick my album


Yep, Hank Williams as well. Have you heard Dave's first hit, his fantastic re-imagining of the Smiley Lewis Blues "I Hear You Knocking" (written by Dave Bartholomew)? Dave's guitar solo on the song is one of my three all-time favorites, in which h...

I'm here for the enthusiasts, not the snobbery


When I was kid, a neighborhood young man crashed his motorcycle. The gas tank ruptured, the gas flooding out and exploding into flames, melting the face shield of his helmet onto his face, badly burning it. The rest of his life had been determined...

magnapans.7i and subs


@turnbown, thanks for the additional REL info and correction. As everyone always mentions the "unique" REL high level connection, I assumed low level aren't provided. As they say about assuming..... ;-). Does the Speakon connector provide a better...

Should people who can't solder, build or test their speakers be considered audiophiles?


Another analogy: To be a great race car driver does not require one have the ability to build a race car.I would say having a deep understanding of music is a more fitting requisite to be an audiophile. But why the "fitness" test? IMO, being a per...

I'm here for the enthusiasts, not the snobbery


I never rode, so haven't had bugs get caught in my teeth. Now hair, sure. 'Cause I have long hair, I mean. Why, what were you thinkin'? ,-)When J. Gordon Holt started Stereophile in 1962, many hi-fi enthusiasts WERE amateur engineers, having had t...

Pick my album


If you haven't heard Dave Edmunds' 1st album on Swan Song (personally signed by DE fan Robert Plant), give a listen to his Get It album. 100% American Rock 'n' Roll by the great Welshmen, who later produced The Stray Cats, The Fabulous Thunderbird...

Sexy singer(s) and/or song(s)


Marilyn Monroe: "Happy Birthday To You", the you of course being President Kennedy. Somewhat related, I never heard Traci Lords' album.

Pick my album


Excellent @iron57, you know yer stuff!