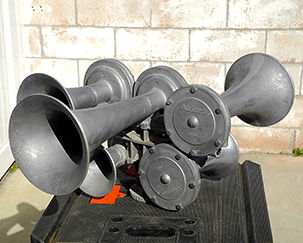 puffball08
Responses from puffball08
Upgrade capacitors in tube amplifier?


For your coupling capacitors (particularly the 0.33mfd), and importantly, if you physically have the room, consider either Jupiter Copper Foil Paper & Wax or Miflex KPCU-01. The Jupiters are a bit more expensive but you won't go wrong with eit...

Your most indispensable "tweak"?


My tweaks involve a soldering iron and only the amplifier.1. Replace the Schottky rectifiers in my amplifier's power supply with SiC rectifiers.2. Replace the Mundorf interstage capacitors with Jupiter copper foil caps.3. Replace the volume "poten...

SET amps


This is a bit over your budget target but certainly worthy of consideration.  The kit comes with Lundahl output transformers and Alps audio grade volume control.  The kit might also come with Takman resistors and Mundorf coupling capacitors.https:...

Whats on your turntable tonight?


"And like @noromance says getting records in the mail is cool !!!"Yeah, my postal carrier is always intrigued by what records are lurking in those "No Hassle" cardboard shippers.I felt like spinning lots of 7" records tonight.Shellac  "Uranus"Jac...

Power Conditioners


@atmasphere,You may find this interesting.  This is Joseph Sola's original patent from 1938 for a constant potential transformer, the forerunner of what Sola makes today.https://patents.google.com/patent/US2143745A/en

Power Conditioners


atmasphere- Your point about non-sinusoid output waveform and generated secondary harmonics are well taken.However, Sola mitigated this by adding an additional "neutralizer" winding in the secondary.  The following document contains a description ...

Power Conditioners


"I don't see why- ferroresonant transformers make a fair bit of noise in their output..."Noise attenuation120 dB common mode60 dB transverse modIs that a lot of noise on the output? 

Power Conditioners


I'm surprised in this thread and some others no mention is made of Sola ferroresonant transformers. https://solahevidutysales.com/mcr_portable_series_power_conditioner.htmThey're not sexy looking, they're heavy, they buzz, they naturally run hot, ...

Whats on your turntable tonight?


Roy Montgomery "M" (Darkmotif Dancehall)The U-Men "X-Mas Concert At Interstate Mall / Live At Club Wow" (semi-approved bootleg of live recordings by Pere Ubu, probably recorded at Pirate's Cove on the edge of the beautiful Cuyahoga River in downto...

Whats on your turntable tonight?


...nose out of a book, ears warmed up.  Listening to a modification, stepped attenuator, already liking what I hear, wonderful detail and soundstage.  Now, on the table:The Pathetx "1981" (go motown!)Roy Montgomery "Last Year's Man"The Prefab Mess...

Whats on your turntable tonight?


Deerhoof "Future Teenage Cave Artists"Avengers "S/T"

Whats on your turntable tonight?


Deerhoof "Deerhoof vs. Evil"Caroliner "The Cooking Stove Beast"(the complete name for this version of musicians is: Caroliner Rainbow Susans and Bruisins)

Whats on your turntable tonight?


Boxer...thanks for the Ubu ideaPere Ubu "The Modern Dance" Pere Ubu "New Picnic Time" (Jehovah's Kingdom Comes!)Ten Years After "Watt"Ten Years After "Cricklewood Green"

Whats on your turntable tonight?


Oops, totally out of it last night.  I meant "Beth" Gibbons, not Ruth.  Yikes!

Whats on your turntable tonight?


Greetings slaw and boxer, been lurking about (can't go anywhere) but reading more in the evening. Also doing upgrades to my old mono block amplifiers. Plus some long put off projects like a nice enclosure for some neat old GE/Yokogawa analog panel...