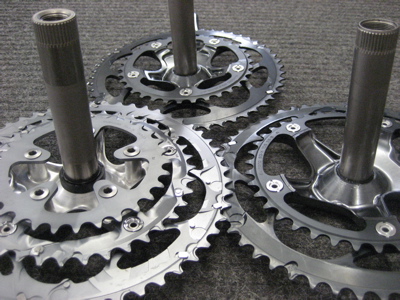 grannyring
Responses from grannyring
What a sad world we now live in.......


Don't forget all the wonderful notes and artist info on Tidal.  Oh yes, and often times the lyrics and photos! Much to engage with! 

Perfect Path Tecnologies 'The Gate'


They are not the same at all.....apples and tuna.  Jafox, great question! 

Class D is affordable and sounds as good or better the SS/Valve why buy anything else ?


Again, the Cherry amps are way too low input impedance to use with most tube preamps. He needs to fix this. This really bothers me with many Class D amps.....not all. The Cherry amps are really low at 20k! Yikes!Also, all I see is balanced? No RCA...

YBA PRODUCTS


Good to hear from you  @warrenh. That Bel Canto amp is no slouch! I will check out YBA again.

What a sad world we now live in.......


Blind listening tests on my rig proved Tidal sounds as good and sometimes better than my ripped CDs. Innuos Zen III. My ripped CDs sounded as good as my past CD transport/dac combo....PS Audio Perfect Wave Memory Player. Ended up selling off all m...

What a sad world we now live in.......


I am an audiophile and have a front license plate that says so 🙂  I only stream. Well 90% stream and 1000 ripped CDs.  All the new music I listen to is streamed.  In fact I have never listened to this much new music and its all due to streaming! A...

All I need to know about D-Sonic amplifiers


Sorry to see the cherry amp's input impedance is too low to use with many tube preamps. 

Most "disappeared" speakers.


My $250 used and vintage Spica TC50 monitors speakers.  Wonderful in this regard. 

Speaker of the Century Award Goes To ....


Erik is right about a 2.5 way having a lot going for it. It is perhaps the best choice for audiophiles that must share living space and audio gear (no dedicated room). I put my Dali Epicon 6s in this camp. No need for a sub, darn near full range a...

Why more bass subwoofer into power conditioner


It's that something else. Even gear with voltage regulation sounds better, including more bass, through my BPT balanced transformer. I just finished building a voltage regulated tube preamp that holds the B+ at 325 vdc at all times.....spot on. Ev...

All I need to know about D-Sonic amplifiers


Links don't work? 

Why more bass subwoofer into power conditioner


I have found the same to be true of the gear I plug into my balanced power conditioner from BPT.  More bass.  This is consistently the case as I change gear and the years go by with my BPT. 

New DAC has transformed my music collection.


Please let us know the model of the Exposure dac.  Not familiar.   

Bought some `Vintage Gear`


Agreed! Just purchased some 35 or so year old Spica TC50s! 

Aurender vs. Roon


I sold my Music Vault from Neil.  It did have many mods and upgrades including the SOTM usb card, linear poser supply, Audiophile Optimizer, Fidelizer Pro and SOTM usb reclocker. With the SOTM power supply.  I loved this unit for years. Neil is gr...