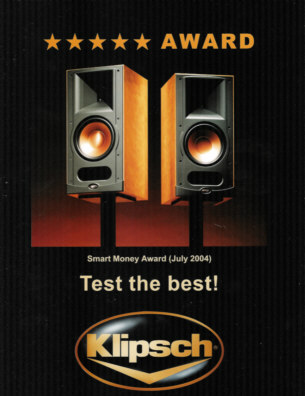 willland
Responses from willland
Speakers for Bedroom - Vinyl/Vintage equipment


PmShow,I would have to agree with the Klipsch Heresy or Heresy II suggestion. Very efficient and dynamic for R&R and jazz but doesn't handle the low lows like a tower would but what bass is availble(minimum around 60Hz) is very tight. I have a...

Plz advise on Denon PRA 1500/POA 2400


06-28-11: Flyinmozart"Hi Hifiman5- sorry think the poa 2400 consumes 500 watt but is putting out 200wpc into 8ohms.I read that too much power wouldn't blow up the speakers. But a audio shop guy actually told me I would blow up my speakers since th...

Plz advise on Denon PRA 1500/POA 2400


I had a Denon PRA-1500 paired with a Denon POA-1500 and it was a wonderful match musically but had to get the amp gain and the preamp gain set just right. I did experience the same with the gain on the PRA-1500 but once the volume came on, it came...

Is It Safe To Connect Speakers To Two Amps??


06-19-11: Rwwear"Niles Audio makes a signal sensing automatic switch just for this purpose."Here is the Niles switcher that was referred to:http://www.nilesaudio.com/images/PDF/SPK-1_Cutsheet.pdfhttp://www.onecall.com/product/Niles/SPK-1-Black/Spe...

is finding a good a/v preamp/amp asking too much?


Lensteve, I think you made a good choice in an AVR with your choice of the NAD 765HD. As many have expressed, it will not do as much justice to a 2-channel setup as a quality integrated or seperates but for an AVR it should sound pretty darn good....

Best amp/pre or Int under 3G's for Klipsch Forte's


May I suggest NAD gear. The newer stuff is warmer than your Adcom but closer to neutral. I have used 200w/ch B&K amps, vintage 150w/ch 80's Denon seperates and 80w/ch integrated, and 125w/ch NAD seperates, 125w/ch Marantz monoblocks with my Kl...

SummerTime and Amp Heat


"Noooooo! it does not draw 75A p-p all the time! The amp specs might say that it is capable of supplying 75A peak but the amp does not do that unless the load requires it. The 75A peak is just the max capability of the power supply transformer &am...

SummerTime and Amp Heat


I too run a fan to draw heat from my B&K EX4420. My amp is the older model of your Ref2220. It draws 75 amps of current peak to peak and runs quite a bit warmer than my also 200w/ch B&K Ref4430. I would rather be safe than sorry and it als...

Onkyo m510 grand integra


While I have never owned or heard any of the Grand Integra amps, specifically the M510, they were considered competion for the Mark Levinsons and Krells of the time.Here is an interesting snippit. I can't remember what site I got this from. "In a ...

Are tone controls worth a second look ?


Ikonetic,My thoughts exactly. The recording that is heard through the "perfect" audiophile system with no tone controls is the results of a sound engineer mixing, tweaking, equalizing, etc. to get the "best" sound. Even a live concert has sound en...

Sunfire TGA 7400 and TGP-5 vs. B&K ref 70 and 200.


Dan,No experience with any Sunfire gear and only have used B&K amps. With that said, I really have been very pleased with B&K and would love to have the Reference 70. I do know that B&K amps have a neutral/warm signature with plenty of...

Review: Denon PMA-757 Amplifier


Update. I now own a beautiful silver PMA-757 with rosewood sides and I am in total agreement with you Ferrari. I have yet to demo the phono section.Thanks for the recommendation.Bill

Building HT and 2CH with Klipsch P-37f


Yusych,Nice speakers. Haven't heard them but have heard good things about them.Here are a couple of links that might help.http://forum.audiogon.com/cgi-bin/fr.pl?aamps&1222959970&read&keyw&zzht+pass+throughhttp://forum.audiogon.com...

Review: Denon PMA-757 Amplifier


Ferrari,Your review of the Denon PMA-757 is sensational. While I have not heard your particular model, I do own the Denon PMA-1080R. My opinions of the 1080R parallel what you say about the 757. Very detailed with CD's and fast. Maybe not the same...

Budget receiver/integrated amp for Cornwall III's?


I am currently powering my Klipsch Heresy's with a vintage Marantz 2252B receiver and a B&K ST2140 amp. IMO, total bliss. The 2252B alone does a wonderful job with the Heresy's in my 13 x 13 room. I have used it to power Fortes and Quartets wi...