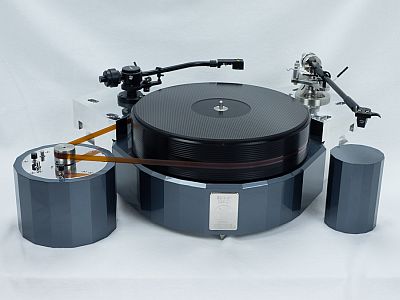 thom_at_galibier_design
Responses from thom_at_galibier_design
Lyra Delos A truth teller or what?


Lyra and other MCs don't dig up more detail. They just over exaggerate what other cartridges don't. It's false information. But to a casual listener, it may seem like a revelation. Them's fightin' words. Seriously however, where are you located? I...

Lyra Delos A truth teller or what?


Ask yourself whether you're in love with a rising top end, common to MC cartridges, or with a truly extended hf response.Also, if lowest tip mass is paramount, we should all be listening to MI or induced magnet types. Hi @lewm,Well, it's all a b...

Lyra Delos A truth teller or what?


I personally have not heard many cartridges with this kind of extension in my life.  Cartridges like this can really dig so much out of older original issue recordings.  Its quite amazing.  I honestly cannot see myself wanting to listen to my ...

Lyra Delos A truth teller or what?


In general, I try to stay out of these "which is best" conversations. Of course, this ends up being a "horses for courses" sort of discussion, and folks will gravitate all over the spectrum in their cartridge selection. To the original poster's co...

Tonearm Advice Needed


Before knowing as much as I needed to know, I put the proverbial cart before the horse a couple of years ago. I latched on to an SME 3009R still sealed in the original packaging. I've not taken it from the sealed wrapping, since I later thought I ...

Galibier Stelvio II, Durand Kairos with Lyra Kleos (HEAVEN)


Hi Luis,Thanks for your kind words.  I just posted a photo of your system (until you get a chance to post better ones).  I also described our "two books and 7 business cards" technique for repeatable VTA settings for tonearms with a "set screw on ...

RMAF vs AXPANO


I usually attend rmaf each year and have attended CES a few times years ago when I was something. Rmaf 2016 was the worst show I have ever attended. Nobody knew that they were remodeling and most of the rooms were way to small and sounded terr...

Cartridge mounting


Dear @lou_setriodes Your bad experiences with him aside (sorry about that), he may actually have experienced a setup he prefers by orienting the screw head on the underside of the cartridge.It may well be for example that in doing so, he torques t...

Once you go 300b it's hard to go back?


Lynn is a brilliant theoretician and I feel fortunate to live in the same town - bouncing ideas back and forth with him. Having his Karnas in my house for those three months was revelatory.Check out his essay "Illusion Engines". Some of it (writte...

Once you go 300b it's hard to go back?


Hi @jond,Until I lived with Lynn Olson's personal Karna amplifiers (http://www.nutshellhifi.com/triode2.html) while he was getting settled into his new house here in Colorado in 2005, much of this lush vs. quick 300B stereotype was theory. Yes, I'...

Once you go 300b it's hard to go back?


Hi Jond,Personally for my taste if I ever went the SET route again, it's been some years, I would go for either the 2A3 or 45 tube over the 300B. Both to me are a touch more incisive and transparent though also lower power. I used to be of the...

aluminum platter vs Acrylic not what I thought


Just keep in mind folks, that when you're ascribing characteristics to a material (whether it be acrylic, PVC or aluminum), making an apples to apples comparison is difficult to do if you're comparing platters of identical dimensions.You won't kno...

aluminum platter vs Acrylic not what I thought


Dear Thom, My apologies for my error in guessing at the materials used to make your Gavia platter. PVC not Delrin. PVC is probably better than Delrin for matching the energy transfer to that of vinyl, because it IS vinyl. Did you ever consider s...

aluminum platter vs Acrylic not what I thought


Atmasphere said:A correct platter pad will have the same hardness as vinyl so that any vibration from the LP can be absorbed.Aluminum and any metal for that matter is far too hard.Acrylic is too, but obviously less so than metal. IME, the harder t...

who knows ZYX retipping or refurbish ?


You could do much worse than having Peter Lederman at Soundsmith repair your cartridge. His work is first rate.I've had customers have work done on a ZYX Universe (a re-tip), several Benz LPs, and a Dynavector XV1-s and in all cases, the work was ...