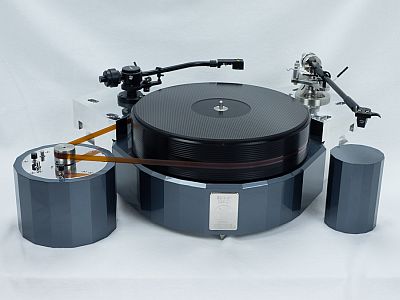 thom_at_galibier_design
Responses from thom_at_galibier_design
The Arm/Cartridge Matching Myth


TL;DRI was however fortunate enough to catch @kirkus' post.  Thanks for taking the time to post.---Have you ever played with tonearms which have multiple counterweights that can be used in different combinations? The resonant frequency shift from ...

Daedalus Ulysses


Well, I know @salectric 's tastes (he's a good customer) and I get what he's saying.Take both his and my comments with a grain of salt. I've never heard anything that moved me the way an alnico 15" Altec woofer does. I have to however, maintain at...

Amazing Service from Galibier Turntables


Thanks for the kind words, guys. With the small size of our company, we get to know each and every one of our customers quite well.An extra (mutual) benefit accrues with our local customers - as we get to beta test new products and updates in the ...

Paragraph line spacing test


In the Firefox address bar enter "about:config" (without the quotes). If a cautionary note appears bypass it by clicking "I accept the risk," or whatever such words appear. (I've routinely done that many times over the years for various reasons, w...

Colorado-Based Manufacturers


Isn't Durand, the tonearm manufacturer, also in Colorado?Joel is out of Seattle. I helped him with the launch of the Talea back in 2010/2011, so that might be the source of confusion about a Colorado connection.... Thom @ Galibier Design

Spade vs bare wire


Keep in mind that if 6-nines copper is important to you, then bare copper wire is continually oxidizing, and copper oxide is a semi-conductor (a diode). Guitar effects manufacturers use diodes to create distortion boxes. Silver oxide is a conducto...

How much does volume matter when breaking in amps and cables?


@ geoffkait15 said:Isn't it pretty to think so? Look, even IF one manufacturer comes to the show with a completely broken-in component, a speaker or amp or whatever, which they actually don't because they want to show their latest model, and one t...

How much does volume matter when breaking in amps and cables?


Cable break-in is primarily about the dielectric and you need to run a significant fraction of the insulation's breakdown voltage to do a "true" burn-in. So yes, running higher volume through your speaker cables will accelerate your break-in ... d...

Cartridge new or used ?


Hi @daveyf Because, IME, without knowing exactly what you are looking for in this regard, all else is just a guess. So even with a 1000x microscope, the knowledge of the shape is crucial...which is why I suspect Raul and I state that only the manu...

Cartridge new or used ?


Hi @chakster, Damaged or worn diamond looks different, but to inspect them we need a powerfull microscope, this is an image from the internet, the diamond is worn accodring to the poster. Great photos in your earlier post, and I agree with you abo...

Kuzma/Koetsu feedbak??


HI @whart, ... have you ever talked with Franc? He's pretty accessible (as you are) and might be able to work with you in a joint development Thanks for the suggestion. It hadn't occurred to me to talk with him, although back in October, I started...

Kuzma/Koetsu feedbak??
@2channel8 where is your shop? You sound like a most ethical dealer! Thanks for the kind words. We're in Colorado, a bit North of [email protected] - The Koetsu Rosewood Signature Platinum cartridge comes highly recommended by Danny Labrecque, ...
Kuzma/Koetsu feedbak??


Hi @fjn04 It befuddles me that the Kuzma tables have not caught on in the US, in the way the Kuzma tonearms have. Not sure if I could venture as to why, but that's all for another conversation. I share your befuddlement. I suspect it's a cosmetic ...

Kuzma/Koetsu feedbak??


While your Archiv cartridge may be a bit long in the tooth, my recommendation is to start by mounting that cartridge on your new arm/'table. It will help you assess the direction your new arm/'table is taking you.Your desire for a Koetsu may be ba...

Platter mat insanity


The record to platter interface is a critical design element in a turntable. While it ranks behind bearing & speed accuracy in the hierarchy of things, it does make a difference and system tastes and interactions will definitely affect your pr...