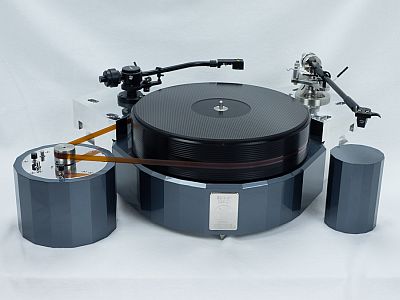 thom_at_galibier_design
Responses from thom_at_galibier_design
Speaker cable length


Well, I'm for short everything, but when moving gear off-center is absolutely necessary, I go against the grain - employing long speaker cables and short interconnects.Given a choice between the "evils" of more resistance as a result of long speak...

Off center (not bent!) stylus?


As mentioned above, I'm not sure why you're putting yourself through all of this. You can no doubt find a cartridge suitable to your tastes and be done with it. I assume however, that you are compelled to use this cartridge and you will most likel...

We spend too much time talking about tweeters


I'm with @audiokinesis on this one. Listen to a small jazz combo from up close (well ... wait until after the apocalypse). Pay attention to the cymbals and then go back to your hi-fi system. 99% of the tweeters out there (many of them in "aspirati...

Can flexible power cables sound good?


No, absolutely not. The best power cords are absolutely inflexible. Some can only be bent on hydraulic press- they're THAT GOOD! Seriously. In case you haven't noticed the most flexible are the freebie rubber power cords that come with everyth...

Is Not Responding To An Offer Just Plain Rude?


Lowball offers are like pornography. Difficult to describe, but you know it when you see it. 10% is a reasonable (not lowball) offer, however. Me? I'm more likely to accept a lower offer from someone who takes the time to attach a brief note. So m...

Distilled water rinse after ultrasonic cleaning


I have the Audiodesk and the answer is simply NO. Unless you plug into the RV as mentioned. You have distilled water with 70% alcohol already, or if you still have their cleaning agent. I'm not sure I understand the above reference, but be aware t...

Is this the solution to LP static issues?? Seems to be!


Not sure how my thread went from inquiring about the age old anti-static formulation that RCA was using on their vinyl, and which seems to work like a charm, even decades later...to: Brake Cleaning fluid used to clean one members LP's!! Just goes ...

Is this the solution to LP static issues?? Seems to be!


This conversation inspired me to document how to work with the shielding tape.  Check this blog post if you're interested:  https://galibierdesign.com/dont-give-me-no-static/... Thom @ Galibier Design

Is this the solution to LP static issues?? Seems to be!


Following on from my comment yesterday (08-Dec), it dawns on me that you could achieve a static drain connection to some bearings with adhesive backed shielding tape - the material I referenced earlier. The adhesive is conductive, and you can sold...

Is this the solution to LP static issues?? Seems to be!


Hi @daveyf,Grounding the bearing is specific to the turntable and its construction. On our turntables, we have a dedicated grounding screw on the bottom of the bearing. You'd have to look at your turntable to see if you can adapt something in ord...

Is this the solution to LP static issues?? Seems to be!


One of our crazy designs (never made it to production) generated so much static, that, you could see sparks jumping from the platter to the turntable base. I kid you not. It didn't manifest until we hit the low-humidity Winter months, and needless...

2020 update : JC Verdier La Platine


Hi @ledoux1238,I hesitate to comment on other manufacturers' products, unless the discussion is general in nature (design approaches, etc. and not better/worse). In the case of the SOTA, I've never played with it.You have an excellent point about ...

Is this the solution to LP static issues?? Seems to be!


Back when I was developing the Redpoint Turntable with Peter, we had terrible static issues in the Winter. The solution for our designs may be relevant to you.We grounded the bearing to the phono stage (any earth ground will do). You might not exp...

2020 update : JC Verdier La Platine


I missed this thread the first time around. Since we added more content to our drive system update page, we've unsurprisingly been fielding quite a few questions about Verdiers. I caught a couple of comments above (one by @lewm) which is exactly w...

Tone arm holes do not line up - best way to attach TT?


Sorry I didn't have time to read through some likely very good comments by experienced posters. Here are my thoughts ...I was tasked with correcting the mount of a Reed 2P for a customer, and discovered that the arm's mounting specifications (pivo...