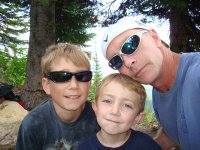 pianoman
Responses from pianoman
Velodyne Subwoofer Problem?


Heruty, unless I missed something in my 12 yrs designing electronics, burning-in allows the components to form their initial resting place, or value if you will. Which should be very close to their original starting place (else why have designers)...

Velodyne Subwoofer Problem?


Yes it was on Auto and ON. The unit burned up. You can smell the toasted electronics thru the paper woofer. At 100 lbs this thing is difficult to ship for repairs. The standard Velodyne packaging is pathetic. I have to build a wooden crate to prot...

Different & inconsistent sound quality


You might also consider the difference in your ear's sensitivity at those extreme times of the day. Your ears will naturally become less sensitive when the environment is noisy (loud). And then at night, or early morning, they can pick up the slig...

Wilson CUB, anyone tried them?


They won't be as lean as the MLs. If your room includes a lot of glass, bare walls, maybe a fireplace, then you will want some room treatments with the Wilsons. They are quite revealing, and room placement is critical. I recommend you use them wit...