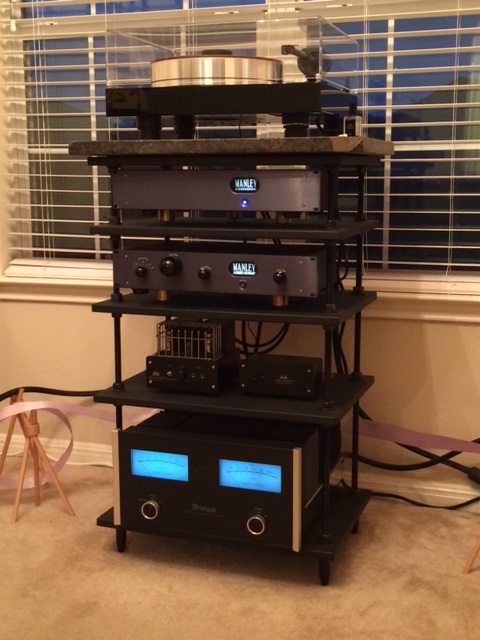 mattmiller
Responses from mattmiller
AS Challenger mk 2 vs. Avid Diva 2 sp vs. Rega P9


Check Out Groovetracer on the Net. The counter weight they have will do the trick. And you can check out the subplatter and Acrylic platter they sell.These products are the finest quality upgrades out there. Matt M

AS Challenger mk 2 vs. Avid Diva 2 sp vs. Rega P9


Awesome Choice!!!! I was just about to say Get the P9. Of course I own a P3/24 with all the upgrades :-) Good Spinning!!Matt M

New Clearaudio Concept Owner. Looking for Cart?


I agree with fossda. The 2M Black is an awesome cartridge With the shibata tip(this is at the top of the scale for sure). Also, I would consider the Nagaoka MP300 it is sold by Needle Doctor. I listen to classic rock and Jazz, I have the MP200 and...

Rega P3-24 or RB301 anti-skating bias


This is super easy...Slide the counter weight till it floats just above platter,set the dial (force setting) to the correct cartridge weight,set the bias slider to the same setting as the dial. If the table And platter are level it will be setup p...

???Phono Preamp for Rega RP3 W/Elys2 ????


Ok, everyone has missed the boat here with suggestions....1st off the turntable is awesome.Bearing in mind the costs of the other components in the system and type, I fully recommend the Musical Fidelity V-LPS MKII at $200.00 it is a perfect choic...

Newbie needs advice


I totally disagree with the above responses.....I threw out all my turntable/vinyl stuff back in the 80's. In the fall of 2011 I bought a Rega P3/24 and I cant stop buying records! I buy mostly used records from the early 60's thru the 80's. I cle...

Big, big room -- which 10-20k speakers?


McIntosh makes Speakers that do very well in large spaces. My dad has a pair of XRT-22's and they fill his huge great room with incredible sound. matt

Does vinyl have a sound?


Yes Vinyl has a sound. It sounds REAL and Correct. Unlike digital that is so remixed and amped up and tweeked with. Of course i'm speaking of music that was made during vinyl's reign. I am so glad I can still find used records that sound fantastic...

Advice on Equipment Upgrade


OK, Thanks to EVERYONE who posted. I am a complete numbskull. I started spinning vinyl a year ago and it has been a real learning experience trying to find used original albums. Trying to rebuild my record collection I purchased what I thought was...

Advice on Equipment Upgrade


Wow that puts it into perspective..no wonder i'm scratching my head ..I was worried that the preamp was not a good match.So any Ideas? I could sell the Primaluna but for what replacement? I dont want to spend $3000-4500 on a McIntosh. Any Ideas fo...

Best T/T Pods/ wood blocks to eliminate vibrations


I have this Table, And It would do a world of good if you had a rack with a shelf on points, then make sure your table is LEVEL check this by putting a horizontal level on the plinth then on the platter too. SO,the iso feet you choose should be al...

Advice on Equipment Upgrade


Everyone should be able to click on the SYSTEM button next to my name in this thread to see Pictures!! let me know if you can't.

Advice on Equipment Upgrade


Hey I see a lot is made of the room size. To clarify, the room is off a tiled entry way so the space is really larger. The room is small but opens up right away to a total size of 14'wide x 16' deep. Still not a great scenario I know.Also, The mat...

Advice on Equipment Upgrade


i MOVE A LOT AND i ALWAYS SEEM TO GET STUCK IN CRAPPY ROOMS..i HAVE TO LIVE WITH IT. I dont like my system on the 2nd floor its awful ...the first floor is the way to go. Yes the room is small. I have tried smaller speakers in hear like Epos Es22....

Amp and speaker matching.


I wanted to Thank everyone that responded...Most particularlyAtmasphere for the very informative link and Yes I agree it would have to be a 200watt or better tube design.Maybe a Audio Research. It this point i'm really thinking of improving the pr...