Why no interest in reel to reel if you're looking for the ultimate sound?
---
Wondering why more people aren't into reel to reel if they're looking for the ultimate analog experience? I know title selection is limited and tapes are really expensive, but there are more good tapes available now than ever before.
People refer to a recording as having "master tape quality",  well you can actually hear that master tape sound through your own system and the point of entry to reel to reel is so much more affordable than getting into vinyl.  Thoughts?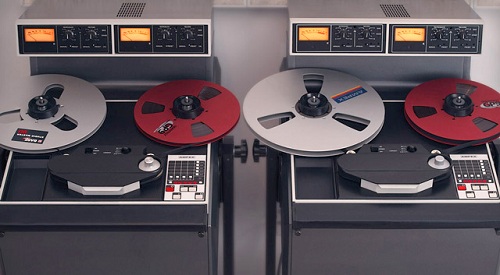 The late Roger Modjeski was very fond of Revox tape decks and has several A77s, most not working that were intended for parts or possible refurbishment. However, he does have a working unit which has 15ips speed (original, not modified).
Here is an interesting tidbit from Roger about R2R decks and A77s in particular:
When the store owner learned I could make an A-77 sound better than new, he offered a $50 tune-up special. I must have repaired and aligned 100 Revox A-77's. I still have a few in my museum and find them to be aging poorly. All those wonderful dipped tantalum capacitors are opening up as the years go by. I figure it would take several hours to replace them all because Revox hid them everywhere. They were easy to get to before the mother board was set deep in the machine. Getting the mother board out is another time-consuming issue. There I leaned about products that are designed for manufacturing efficiency with little regard for repair efficiency.

Cars are similar; some starters you can replace in 1/2 hour and some take three. You know that if you keep the car long enough, you will replace the starter and the water pump and the alternator, among other things. We don't throw the car away when the starter quits, but we are tempted to junk the Revox when 30 hard-to-reach capacitors are all failing. I don't use my Revox anymore, I just look at it. I still use reel-to-reel every day, an equally old (1971) Sony whose capacitors are still good because they are aluminum electrolytics. As you see, I've made a lifetime a study of the reliability of components. Strangely, if we look at the manufacturers' life rating for many components, we find things lasting far longer than some ratings would lead us to believe. The capacitors in the Sony are rated for 1,000 hours, but are now 23 years old and, given my usage, have probably seen 20,000 to 40,000 hours. There are about 60 of them in there and not one has failed.
I kind of foolishly fancied that Abbey Road would have used something like a top quality Studer (certainly in the back half of the 60s) but no. Apparently they used a British design instead - the BTR3 (British Tape Recorder 3) to record most of their seminal albums.
https://en.m.wikipedia.org/wiki/British_Tape_Recorder
I also recall a quaint story I heard about when Sinatra came to record in London in the early 60s (I think it must have been the 1962 Sinatra
 Sings Great Songs From Great Britain/
 CTS Studios). 
Legend has it that he was so unimpressed with the technology available that he had an Ampex tape deck and operator specially flown over for the occasion!
Perhaps some fan of Ol Blue Eyes can fill in the details. In any case these mastertapes are still the best source of this priceless music that we have.
To have a first or even second generation copy of a favourite album...