New Vinyl
---
Hi everyone, will you please list some new vinyl pressings that didnt make you wanna return it right away when you first played it. I have found a few:

Anything by Phil Collins has been done well and sounds good.
older box set of "the Song Remains the same" Led Zepp. Great sound. (Mothership sux)
Eric Clapton, everything on the shelf has been re done either 45/33 rpm's all great sounding. RTI pressings especially (duh).

Matt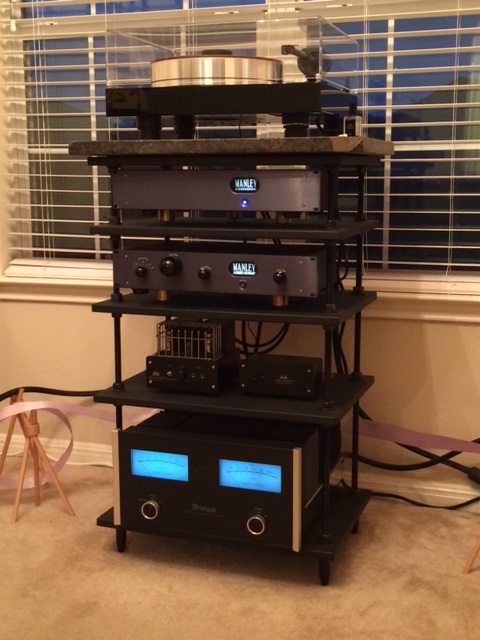 MFSL ultra disc one step LPs (Santana, Bill Evans and Donald Fagen so far). About as good as vinyl is ever going to get IMHO. Just purchased Michell Legrand (Legrand Jazz) and two Van Morrison LPs (Astral Weeks and Moondance) from Music direct; all are excellent. Can't believe the Michel Legrand album is 60 years old. Music Direct are agents for MFSL and specialize in high end specialty pressings. I have just got back into vinyl (see my other post on Audiogon) after a 33 years absence and can't believe how the quality of vinyl, especially the +180g specialty pressings, has improved over the years.
Sounds like you are looking for rock. Are you resistant to older pressings?
brian davison-every which way- on mercury- shouldn't cost you more than 30 dollars for a clean copy- very much like old Traffic- blues shouter with some exotic and jazz motifs;
Captain Beyond doesn't suck;
You can spend real money on Vertigo Swirls- I recommend the 1970 Annual, a two record set that is relatively cheap, and has many of the great early Vertigo bands on a great sounding compilation
Gnu-
Blast Furnace- 2017 Danish reissue of an old hard rock band that kicks ass melodically and musically;
King Crimson Toronto 2016 Live 4 LPs some of the sides, like Starless, are stunning;
A reissue I'm writing up now- Blackwater Park-Dirt Box- expensive as an original pressing- the Svart reissue from Finland is fine- and cheap--very hard rock.
I tend to look for material off the beaten path of standard "audiophile" reissues.
There are also an awful lot of older rock records that are cheap and sound good if you are willing to deal with condition issues to find unmolested copies, e.g. many of the Warner Green Labels sound terrific.
I'm a big fan of Zep, but have indulged in early pressings, though I have some of the Classic Records reissues. None are terribly good recordings, but some pressings sound much better than others.
A lot of Steve Wilson's work is good if you like "prog"; so too, are some of the Opeth albums, which are more accessible if you start with the later naturally voiced records (e.g. Damnation) and then work your way back to the heavier stuff, e.g. Blackwater Park- named after the German band mentioned above.
It really depends on your musical taste- I was strictly analog all the way on LPs but some of the digital remasters and natively digital recordings on LP sound very good. These can give you a wider range of material to sort through than the usual warhorses. Almost all the great early Clapton stuff (The Cream, Blind Faith, Layla) goes from mediocre to really bad sounding, though folks like Unplugged (which is a digitally sourced record).
One of the most splendid sounding audiophile reissues is the SRV album with Tin Pan Alley cut at 45- from Chad. Originally sold only as part of an expensive boxed set, I think you can now buy the albums individually. (I live in Austin now, where SRV is god, but am not a giant fan). I'm more likely to listen to Rory Gallagher, Roy Buchanan, Robin Trower or other guitar hero records.
Have fun- it's an adventure!


I agree with "mofimadness"; Gillian Welch's "The Harrow & The Harvest" is simply amazing. But then again, when you read the story behind this recording/pressing, no surprise why. Attention to detail is way beyond normal, they even purchased and modified their own cutting lath to get the very best sound possible.

About "The Harrow And The Harvest":
A single LP mastered for vinyl direct from the analog tapes by Gillian Welch and David Rawlings on their own custom-built VMS 80 lathe with Ortofon amplifiers, this pressing of Gillian Welch's The Harrow & The Harvest is the first vinyl record to come out on Acony Records.
With new full-color artwork by John Dyer Baizley, the package includes a gatefold old-style tip-on jacket printed on special paper, a printed sleeve, and lyric insert (included with the album for the first time).
V...I mean that most of newly pressed vinyl is defective or taken from a bad source and then pressed badly. Also, Music Direct is not perfect they sold me a Blue Note record of a new artist (Kandace Springs "Soul Eyes") and it is defective. I have also found Van Morrisons "Astral Weeks" at Barnes and Noble and was surprised by how good that sounds. I just picked up a new copy of a 2002 Sundazed version of Jefferson Airplanes "Suralistic Pillow" it was supposedly taken from original Mono masters. Will C. I read great things about MFSL mono version on 45 speed as well. And I like Jazz music a lot as well as rock. I have wanted to purchase a ONE STEP record but I havent yet...These can be tough to get as well..and I'm not paying $300 on E-bay for one either soooo...Thanks everyone for your comments and as always keep spinning!

Matt M

If you're serious about a one-step you should get your pre-order in as soon as possible. Why pay $300 when you could pay $100?

You make it sound as if Music Direct is responsible for the manufacturing of the lps they sell. While I have my own gripes with them, they, just like Elusive Disc and Acoustic Sounds make the customer pay for returns. That's not right. This is why 98% my lp buying goes to other places that have better customer service.

I have the Sundazed "JA" and the MFSL 45rpm. No contest...the MFSL wins hands down.

Not that I'm excited at the prospect of spending a hundred bucks on a single LP, but if Mobile Fidelity is going to all that trouble I wish they would do it with an album that contains music I like! I've long wondered what the H*ll their criteria is in picking titles to remaster and press on high quality vinyl and SACD.
An unusually cool one they've recently done is Planet Waves, the 1974 Dylan album with The Band backing him. It's a charming little record that sounds like it was recorded live in the studio. Very unprocessed (no electronic reverb, etc.), "in the room" sound. Engineer Rob Fabroni really captured Levon Helm's trademark drumset sound. "Going, Going, Gone" is a killer songm as is "Forever Young" and many others. One of my favorite Dylan albums, and a welcome reprieve from the generally dreadful music being made at the time.
(I realize they are responsible for their MFSL releases)

This only goes more to support my point!

I think, even I could run a successful business if I manufactured a niche product that can demand high prices and when said product was in some way defective, I could charge my customer for my fault. A great business model from one perspective, for sure.

@bdp24 - I think, at least with the audiophile reissue houses that go to the trouble of sourcing from tape (and have the clout to get access to the tapes), they usually don't want to take risks given the upfront costs- that is why it is the same popular titles that get reissued again and again. And since those sell, why not go back to records with a proven track record?
I wind up buying a lot of stuff from offbeat labels- Svart and Second Battle come to mind. In some cases, the older reissues may (not sure) come from tape sources rather than a digital file from the label. That said, the quality of some of the digitally sourced vinyl is pretty good- better, I think, than it used to be in many cases.
Planet Waves is a record I've owned from the time of release. I still have my original copy; I also have an old pink rim I picked up along the way-- I think it is a German pressing. Though I bought it some years ago, cheaply, I still don't think I've listened to that copy. 
Bill, your reasoning makes perfect sense; that hadn't occurred to me! Planet Waves came out on Asylum Records, and is Dylan's lone non-Columbia release. I haven't gotten the MFSL LP yet, but at Amoeba Records in Hollywood found the Japanese Sony SACD from the early 2000's, put out no doubt to provide some source material for their new $3000 SACD player. I don't intend to get the MF SACD, but a comparison of the two versions would be interesting.