Names of Bands...
---
I'm a 91.1 WFMU listener(www.wfmu.org) where often I listen to the very cool talk shows and great non-commercial music.

The show I realy liked unfortunately was heard recorded where DJ-s were accepting a phone calls from everyone who knows the name of band and the reason of that name.

For example the name Can was always accossiated with nown but in reality as per band name selection it's a verb that realy uncovers meaning of the band: Yes, they can!

What about King Crimson? Jethro Tull? Yes? 10CC?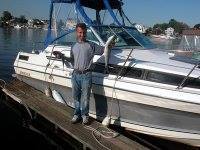 If you read a lot of in-depth music mags like Mojo etc and music biographies. the origin of most band names come up-as is the way and what can be seen from some of above these can turn into Chinese whispers and the truth gets distorted or lost totally even by those involved-such is history-e.g Jeff is about 98% correct with the origin of Zeppelin-the actual well known phrase is "going down like a lead balloon"-Keith Moon usually gets credit for this as part of a proposed supergroup around the time of birth of Zeppelin-he changed it from balloon to Zeppelin but the idea of failure was the central one-Peter Grant then made the phonetic change from Lead to Led (so it wouldn't get mixed up with the word lead, as in to shephard forward).
10cc I used to read was the average volume of sperm ejaculated by a male during climax-I recently read in fact the average is about 8 or 9cc so the Manchester band increased it to 10cc as highlighting their supriority.
Mott The Hoople are named after a novel by William Manus.
There is even debate about the likes of Bob Zimmerman changing his name to Dylan-nearly always accepted as taken from Welsh poet Dylan Thomas-Robert Shelton also mentioned that Dylan as a teenager was a big fan of Gun Smoke a TV series who's main hero was Matt Dillon.
Clearly the history of band names has two main inspirations-usually to change a dull real name or to avoid confusion with existing names and/or to simply create something that sounds good or interesting.
I have undoubtly forgotten more origins than than I can remember-not least down to the fact they are usually pretty mundane.