McCormack DNA 750 mono block amps
---
Hello , Could anyone please assist me in letting me know if these would work good with my King Sound King electrostatic speakers . Looks like there are two sets of binding posts on these . If they are a stereo amp that gets bridged I know they will not be good with my speakers . Thanks in advance , Mike.
also, I use a Knobsound volume pot coming from either my exogal dac or Sony Hapz1es music server.


DNA-750 mono-block amplifier is the proverbial iron fist in a silk glove. With up to a kilo-watt on tap (4 Ohm load), the DNA-750 has the muscle to move and control any loudspeaker system available today, all the while demonstrating remarkable poise and ease. At the same time, it offers a degree of refinement and finesse that few amplifiers can match. In the DNA-750 power and grace combine to bring you closer to the music.

SPECIFICATIONS
Output Power: 650 watts into 8 ohms, and 1000 watts into 4 ohms, from 20 Hz to 20 kHz
at 1% THD.
Input Impedance: 13 kOhms
Input Sensitivity: 3.1 Vrms
Voltage Gain: 27.4 dB
Frequency Response: -3dB @ .5 Hz, 65 kHz
Signal-to-Noise: 112 dB
Harmonic Distortion (10 watts, 1 KHz, 8 ohm load): .1%
Signal Polarity ("Absolute Phase"): Non-Inverting
Power Requirements (117V/60HZ): 0.7 Amps /84 Watts @ idle
6.8 Amps/ 820 Watts @ clipping (8 ohms)
Dimensions: 19" W x 6 7/8" H x 15 D"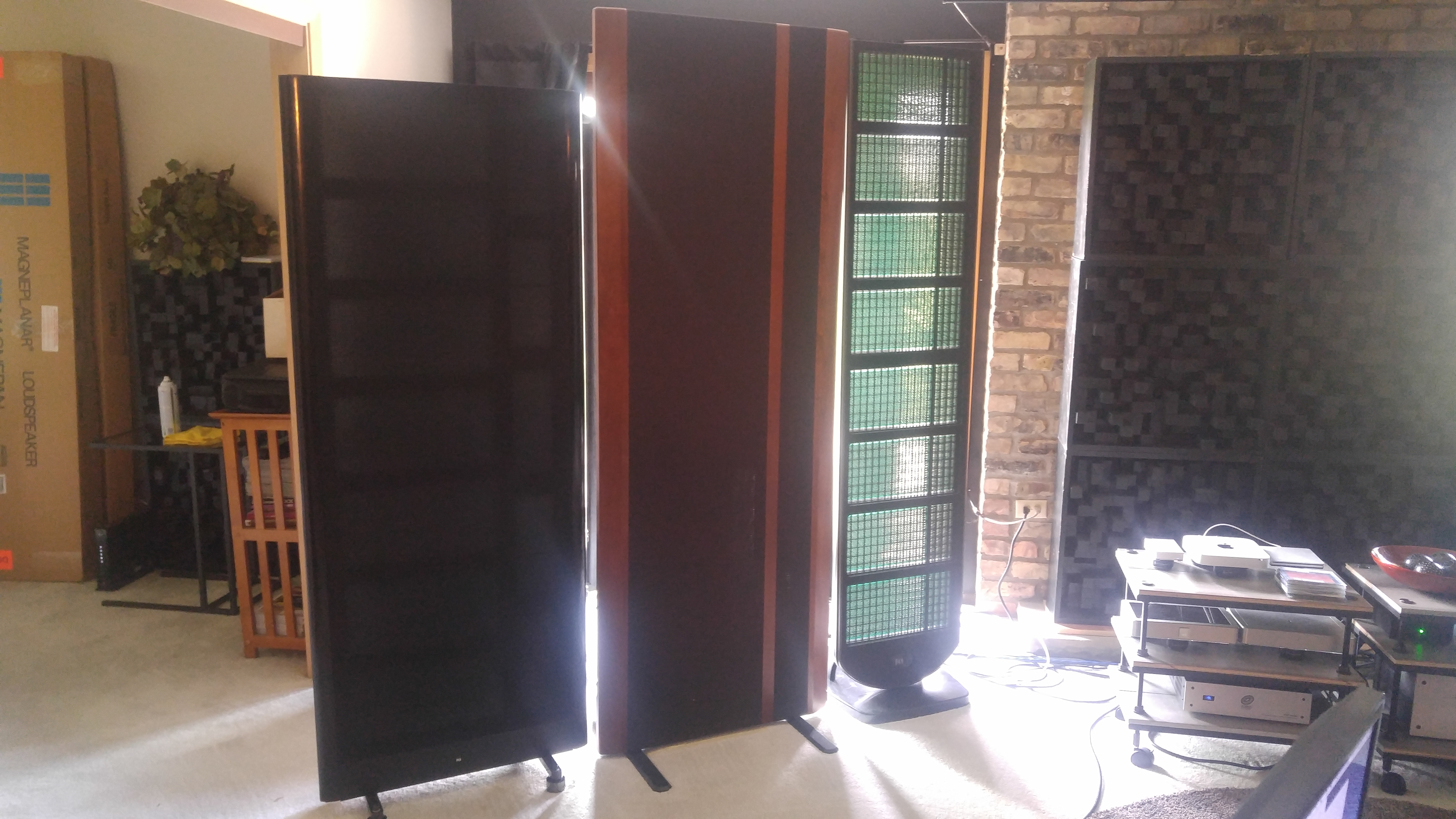 The king sound may dip too low for these.
im sure they can. Handle it, but these amps are not really made for such a low ohm drive.

i own a pair, and they are the best amps I've ever owned, but I don't go lower than maybe 3.5 - 4ohm with mine on certain music massages.

 Yes, call steve McCormack and ask him , you can talk directly with the designer of the amps for a definite answer.
These amps  are outstanding in every way, I have found nary a weakness in 2-3 years now.
  But with those speakers, you should look into the Sanders Magtech, and never look back.
www.sanderssound
systems.com. 
MAGTECH, you will never run out of juice, and will have clarity, killer lows, slam and finesse all in a lifetime package. There is not much better than the Magtech, unless you pop for the Magtech monos, those are in a whole different world, and will ride neck and neck with the best amps currently made.  They will smoke all the Levinsons, krells, and the like. 
30 day trial period, don't like her ship back.
if you own the kings' I would give a serious look to the Sanders Magtech.  You will have a lifelong amp. Roger is also a absolute pleasure and he is as sharp as a carpet blade. 
Ive been saving for the Magtech for quite some time now........
as soon as I have the funds, and I sell my sunfire signature, I'm lal n.
WANNY BUY MY SUNFIRE SIGNATURE, ITS PRISTINE, AND HAS LOW HOURS, DESPITE ITS AGE, IT HAS BEEN RECapped, and a new light, its the 600W dolibling down to 2 ohm, stale to 1 ohm.
let me know.  
Thanks for the responses . I don't think autoformers are necessary . I have a 100 watt Exogal Ion amp that I sometimes throw into the system for a change of pace . It is only 100 watts and sounds good . Only problem with it is I have to get it going pretty loud for the room to get pressurized with bass . The Anthem P2 is a class A/B that puts out 325 into 8 ohms 500 into 4 ohms and is supposed to be stable to a dead short. I am very happy right now with this amp . just got it used a few months ago . The Mccormacks are local and a craigslist offer . Thats the only reason I am considering it . Also there is a Threshold s/500 I can get too .

Arktic - That is a good suggestion on the sanders amp . I had forgot about those amps . Don't see to many on the used market . I did have a Sunfire in the past , but it lost out in a comparison to a Crown 2502 xls pro amp