I lied to my wife about the price of Stax 009S headphone
---
My wife is the youngest of my mom in law who is 88 years old.

Recently my wife is staying with her mom to take care  expecting her mom can live just one more year or so.

Thus I am having happy life playing music loud even during midnight.

My house is seated on 2 acre lot so that my neighbors does not get bothered unless windows open wide.


My wife dropped at home yesterday ( She drop once a week to clean the messy kitchen while she is away.  She is an angel Ha ha).

She happened to see my new headphone of Stax 009S headphone and asked its price.

I could tell her the real value ( new price 4,500$ and I got 4 months used one for 3,200$).

I did not mean to deceive her but answered it costs me 1,500$ by chance.


Then she had listened to K-Pop using both  Stax 009S headphone driven by Carbon amplifier and Massdrop  Empire Zeus IEM( I told her the real value as 1,000$ No lie here Hehe).

The source was  Cocktail Audio X30 music server feeding  Chord Dave and Mscaler ( I did not tell her how much Chord Dave and Mscaler cost, if she find out, I may have to buy her diamond necklace)

On first few songs, she prefer  Empire Zeus IEM  to  Stax 009S headphone on lively sound of the former.

But after listening few more songs, she expressed that  Stax 009S headphone sounds more natural than  Empire Zeus IEM .


Whew if I had told her that I had spent 3200$ on headphone, I may have to go out to buy her something like expensive bag or clothing.

Reality is I had also spent additional 3300$ on  KGSSHV Carbon headphone amplifier.

How many of your audiophile had lied to your wife or girlfriend about the cost of audio components?

I guess 98% from my 41 years of audio history.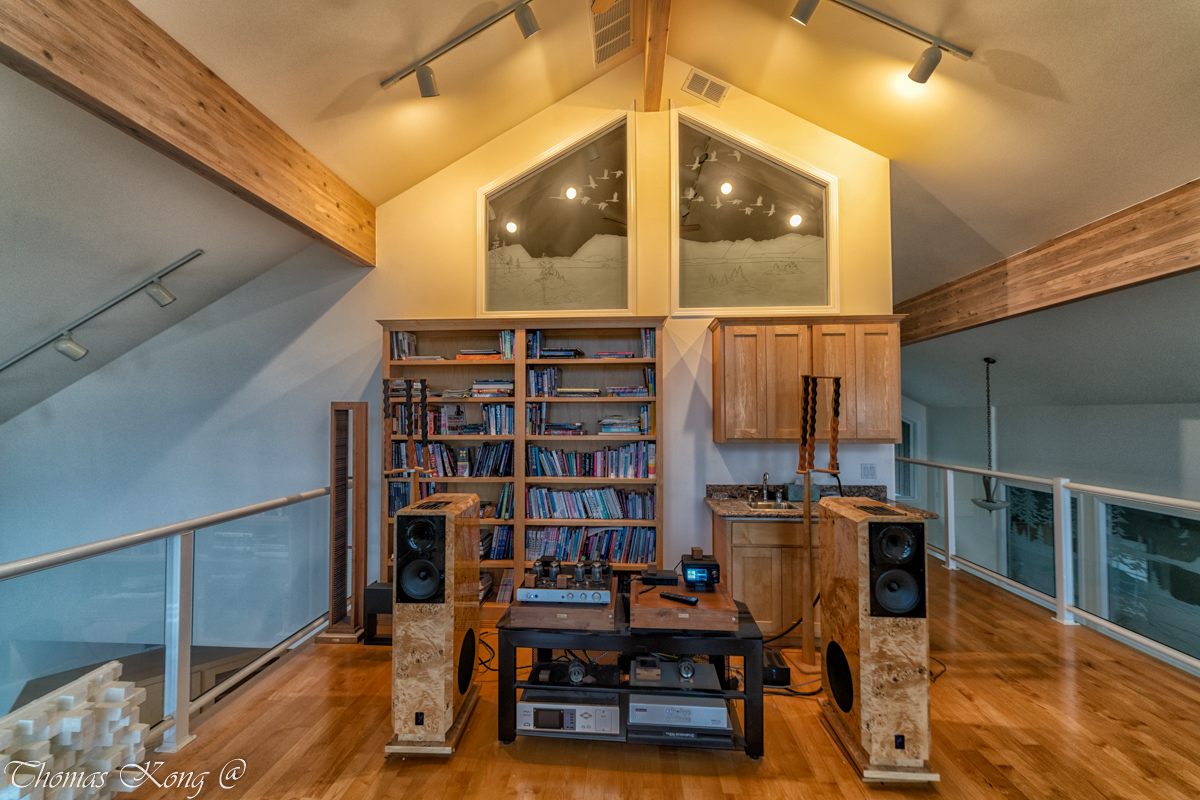 In reading your threads, one thing clearly stands out is your creativeness to 'brag' about the gear. I don't know about anyone else here but lately you are coming across as someone who goes through these intermittent 'urges' to showcase your audio jewelry.

I think it's time for a gut check, are your more smitten by looks (and cost) of your gear or its capabilities to produce soul stirring music?

Sorry no offense intended, but it's quite easy to loose sight of your goal of putting together an ultimate sounding system when all you talk about is how good my gear looks, cost and compare against uber-expensive gear (case in point, $100K MSB DAC).

In regards to lying to your wife, that's a no no in my books. I don't think you would appreciate if she starts to lie about items on her shopping list.
@lalitk

Thanks a lot for reminding that I have a creativity of "Brag " about the gear.

By the way I have no intention to spend 100K$ on Dac.

It is not worth the cost.

But I am trying to save the money for next 3 years or so to get WE vintage horn speaker which cost 300k$ and up.

That is my dream speaker that I wish to get before I die.
I had better keep my kitchen clean at least.

Thanks for your good advice. Ha Ha
You're welcome. And pay no heed to the above. Look at it this way. You got one guy so on top of it he knows a few minutes wiping the microwave and putting the dishes away pays big dividends both with the wife and your own sense of accomplishment. And you got another so cringe-worthily clueless he says things like "that's a no no in my book". Come on. You got the killer setup. I can only imagine the kitchen is equally impressive. Totally worth keeping it clean.
Besides, she could probably use the help, what with the mom and all. Prayers and wishes. Prayers and wishes.
@ebm

You belong to 2% unlikely lucky class.

Most of time, I am silent about the cost of gear rather than lying.

But this time, I said 1,000$ instead of 3,200$.

By the way my wife insisted that I shall return 1,000$ earphone.

I replied that return period had been over and as audiophile I had better keep one nice earphone which used to cost 2,200$ new three years ago.
millercarbon,

"And you got another so cringe-worthily clueless he says things like "that's a no no in my book". Come on."

As OP guesstimates, you must belong to 98% of audiophiles who finds it okay with lying to your spouse. And that's fine by me, whatever floats your boat and let's you enjoy your favorite tunes.

I do not feel the need or urge to lie.
I am a heartless rat barsteward.
If she does not like what I spend on my hifi then she knows how the door works.....
She wants for nothing and I never ask what stuff she buys cost and vice versa so I guess that takes away the having to deceive part anyways.

But she is a good old sport, I just bought myself a Porsche and a Corvette, she wanted a new roof and garage doors, pretty fair deal I say!

@frogman
I will spend some money for my angel wife  in the future.
I had planned on Cruise trip to
Mediterranean.
 next year
But I may have to wait until my mom in law goes to heaven in peace.
Post removed
@jab 

Reminds me of the story of the husband who misinformed his partner about the true cost of an audio something. When the husband came home from a business trip, his wife informed him with a big smile on her face, that she sold the audio item on agon for more than he paid for it!

Ha Ha

It was costly frank.
That is a derivation of what I've called "Audio Math" all these years. See, if I sell this old pre-amp and cables it will more than pay for the new one plus a nice dinner out...you get the picture. She caught on a long time ago, and even uses the phrase, but has lovingly resigned to letting me act out the farce from time to time. Luckily I was in, and have now returned to, the industry so the financial pain is lessened somewhat.

@lalitk
I think it's time for a gut check, are your more smitten by looks (and cost) of your gear or its capabilities to produce soul stirring music?
While my value proposition is clearly aligned with yours - obtaining gear that allows music to nurture our souls, I do find it begins a slippery slope and a bit judgmental if we accuse folks of being audiophiles and seeking expensive gear for the "wrong" reasons.  This is a forum to discuss impressions on all things hifi and music....without regard for who is into the hobby for the most virtuous of motivations, right?
Post removed
Post removed
Post removed
Ahhh, to have the sound system in the grand ballroom, (er, 16'x20'x9' family room) instead of relegated to a 12'x12'x8' former spare bedroom! It's enough that my wife agrees to my quest for bigger and better audio gear and material to play on it. She does try to give me the guilt trip though, whenever I inform her of my pending purchases. 
I feel sorry for those who feel the need to lie to their wives.  When I was shopping for my 3.6 Maggies, my wife told me that if I wanted them, I could get the 20.7s, an extra 6 or 7K at that time.

We support each other's hobbies and life remains balanced.  Both are music lovers,  ut when we merged our CDs into a 900 strong collection, there was exactly one duplicate, CSN's first album/cd.

@shkong78
Why are you leaving the kitchen dirty - it's called paper plates and a microwave or use the grill outdoors!  No mess, no fuss.
My wife gave up on me a long time ago.  She spends what she wants and I do what I do.  After all the guitars and stereo equipment which is stacked in a few room in the house, she just wants to be able to walk into the rooms without falling on things.  BUT since I build my own components and repair components so I make money on them, she is OK with it now.  I still don't tell her the real costs so I am a big liar I guess but when I make the money and take her out to dinner Friday and Saturday nights, plus take care of the home and auto repairs, she has no complaints I guess anymore.  I  bought her the Lexus that she wanted and take her on vacations that she wants to go on so she is very happy.
You have to give to get in this life.
Happy Listening.

I used to tell her the true value of audio gear since we have separate accounts.

She knows that my Lansche 4.1 speaker cost me more than 50k$.


Stax 009S sounds musical even with slightly bright recordings.

But even with those nice things, I could not tell my wife that it costs more than 3K$, since she has never experienced such headphone before.

Somehow she has prejudice that all headphone and earphone shall be less than 500$.

It may be because that I had never used expensive ones before this year.

She even urged me to return 1k$ Empire Zeus earphone.

How come earphone can cost ik$?

That is what she said to me.


Post removed
Tom, David
Let me explain a little on that.

I have likely owned or driven just about every muscle car made or created and to tell the truth I got bored with it all, sold all I had and bought a Porsche 911, a car I always loved the look of.
Well after all those high hp cars a 300hp 911 just did not cut if for me so it went too.
Then I discovered a surprising Ford, the Focus RS, great fun all round and enjoyed that for couple years.

Closing in on retirement I told the wife I fancied a classic car again and really liked the idea of a Vette convertible when I retired.
After a couple days she said why wait buy it now, well you do not have to tell me twice!
So a 74 vette convertible was purchased, 66k genuine miles all original.
Is it fast or a great handling car? Of course not.
Is it just what I was looking for? Heck yes!

Couple days later somebody made me an offer on the Focus RS I could not refuse so it went.
What next I thought?

Well just so happens a Bright Red Porsche Cayman S showed up on Auto Trader local and this baby definitely hit the spot so home with me it came.
It looks like sex on wheels imho, so MUCH nicer than a 911 or Boxster.
I just appreciate very fine mechanical items and it can say Chevrolet or Ford or Mercedes or BMW or Alfa or Porsche etc on the back, I draw no lines!

Thats how I happen to own both a Vette and a Porsche at the same time within days of each other.

I probably am as addicted to cars as audio tbh!

And thanks for being gentle with me....lol

I am having the time of my life tbh, but thats what 40 years of hard work and dedication has wrought, now time to enjoy some of the spoils before it is too late!