Best integrated for SF Guarneri Homage?
---
Hi - looking for some advice on the best options out there to match a pair of Sonus Faber Guarneri Homage speakers. I currently own a fantastic Acoustic Plan Sitar integrated (40 watts per channel - hybrid design)in a 6 x 4 x 3 mt dedicated room - but have the feeling that I need more power.

I listen to Jazz, Alternative and Blues 75% of the time and reasonable levels.

Thanks for your feedback.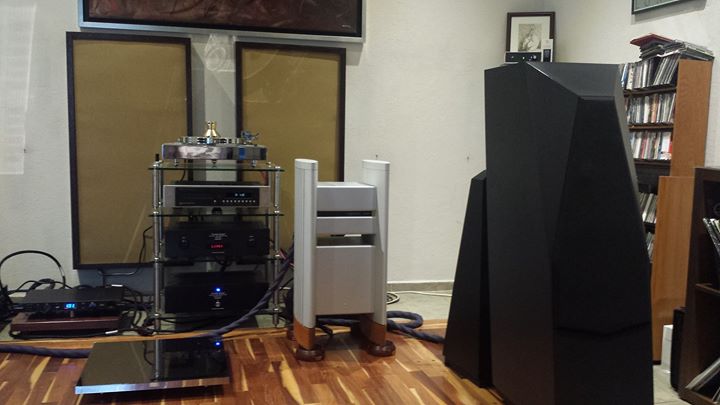 Thanks all for your comments so far, here are my responses to some of your notes above:

i) I have all SIltech wires from AC to speakers (G5 level mostly) will take a look at Yter thou (never heard of them before)

ii) Budget is not an issue really - I am not rich but have good credit score :-) (The Sitar is at $9,500 MSRP)

iii) I had the Jadis Da50 Signature some years back while my time with the Avantgardes UNOs, nice amp and can give it a try again.

iV) I have not had good experiences with subs, they fix some issues but add some other sonic artifacts that mush mids most of the times - I have a friend with a REL Strata and can try as well.
Jeff Rowland Continuum 500 (class D), Plinius 9200, McIntosh 7000, Mimetism 15.2, ASR Emitter, Boulder has a new one out. Used Levinson 383? Just some thoughts...can think of more if you'd like..have fun. There is a thread here that asks "Best Integrated" or something like that. may want to check it out.
I just tried a pre/power combo from Gryphon thanks to a loan from the dealer - the BelCanto and S100 were here for a week or so, my findings:

PROS
i) better bass control and energy
ii) nice headroom and around-the-speaker air reproduction
iii) great look and build quality as all Gryphon gear

CONS
i) not as magical and musical as my Acoustic Plan Sitar hybrids
ii) more fatigue after a couple of hours compared to my reference
iii) asking price to move does not justify the effort

I decided to keep my Sitar until other options become available.

Thanks to all the replies so far, de Bearning was not in my list and will definitely explore it.