Actual Lead Time on Tekton Speakers
---
Hi All-

I've had a pair Tekton speakers and a sub on order since the last week of February. When I placed the order they said they were running 8-10 weeks for shipment. I knew at the time that these were made to order and that there was a substantial lead time, so I'm not complaining. But I'm like a kid on Christmas Eve...

Can anyone who has recently received their speakers tell me how long it was from order to shipping? 

Thanks, 

G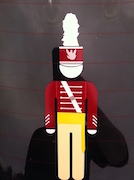 Facten-  Yes. Emailed 2 weeks ago to get an update, and then a few days ago. They said they are waiting for components but they were due any day. While everyone there is very nice, there's not even a hint of an estimated ship date. They said they'd let me know when they are ready to ship.

I'm not wound up about it. In fact, I think this comes with the built-to-order, semi-custom thing. I'm just excited to get them...
@spacecadet65,

I was the same when I custom ordered an amp from Odyssey. I called every week as I knew they were back logged. After a few months I got a call saying they had built the exact same amp as mine, only in 220 volt for a European customer who cancelled. He put in the proper transformers and made it to US specs and I received it a week later.

When I ordered my GE Triton Refs, I ordered them in January 2017 with a 4 K deposit and received them July 17th in 2017. Looking back, I am surprised I had enough patience to wait that long.